Watch Online
Thanks for visiting the Media Ministry page for St. Monica Catholic Community! We have a team of volunteers who produce a weekly livestream of the Sunday 5:30pm Mass, in addition to Christmas, Holy Week, Easter and other Masses throughout the year. We are also available to livestream your wedding or a funeral.
St. Monica Mass Livestream
►MAKE A DONATION ►DOWNLOAD WORSHIP AID

---
Parish Mission 2020
---
Our Livestream Video Channels
If you are unable to view the video above, please click on one of the following links. There you will also find our archive of Masses and special events.
Watch us on AppleTV or Roku
You can now watch Mass live or on-demand using an AppleTV or Roku device!
Go to the App/Channel store and download "Livestream". [it's free!]
Launch the Livestream app and SEARCH for "St Monica".
Make A Donation
If you would like to support the Media Ministry, make your one-time gift here:
Go to stmonica.net/onetimegift, select [Liturgical Ministries] then type "Livestream Ministry" in the comments box.
TEXT2GIVE: If you would like to make a quick, one-time donation, text monica to 37284. Click on the blue link and follow the prompts! It's easy!
Livestream your Wedding or a Funeral Mass
Many wedding couples and families have found great comfort and joy by offering this Livestream service to their friends and family who want to watch from afar. We use a very reliable streaming service which works all over the world, and on all mobile, tablet and desktop devices. Because the Livestream system is maintained by a volunteer ministry, we are able to offer our services at a reduced cost. And while this does not replace the cinematic quality of a professional videographer crew, our service is a great alternative. Please speak to the cantor for your Mass, or email the Livestream coordinator at .
Join the Media Ministry
We are always looking for volunteers who want to help with our media ministry & tech team! This is a great way to use your tech-savvy gifts for the Church and meet others who are interested in this ministry. A few key positions we would like to fill with more volunteers:
Video Director (1 Mass per month)
Camera Operator (for special events)
Video Editor (We use Adobe Premiere and Final Cut)
---
Contact Us!
If you have any questions or would like to get involved, contact Dan Houze, Media Ministry Coordinator, at .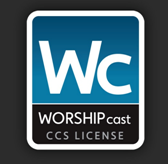 St. Monica Catholic Community proudly honors & encourages the appropriate licensing for all music publishers contained in these archives. Please contact if you have questions about how we handle copyrights, both for reprint licensing and streaming licensing. CCS WorshipCast License #8201.
Livestream Behind-the-Scenes!
We recently collaborated with CNET, a prominent technology news outlet, on their story of technology and the grieving process. Monsignor Torgerson and our Livestream coordinator, Rebecca Terlizzi, were interviewed. In addition to the video piece below, there is a written article and a three-part series in CNET magazine releasing this summer. ►Article
Thinking about starting a Media Ministry at your parish? We would be honored to share our lessons learned and help in any way we can. The joys that this ministry has brought to our team members and parishioners alike were unexpected and often very profound. If you would like more information, please don't hesitate to reach out! E: