YMA (20s & 30s)
Contact: Delis Alejandro, or (310) 566-1530
Young Ministering Adults (YMA), the fellowship group for singles and couples in their 20s and 30s, provides spiritual, educational and social activities as well as programs that support young adults as they discover new roles in family, work, society and the Catholic Church. Join us for fellowship and fun!
A team of young adults along with a staff coordinator coordinate all activities for the ministry. Along with coordinating activities at the parish, the YMA Core Team makes it a priority to invite and welcome young adults to the community and to provide information to its leaders and participants. The ministry also seeks to improve involvement, participation, and integration of young adults at the parish and also advocates for the concerns of young adults today.
Upcoming Events
Vespers is Back!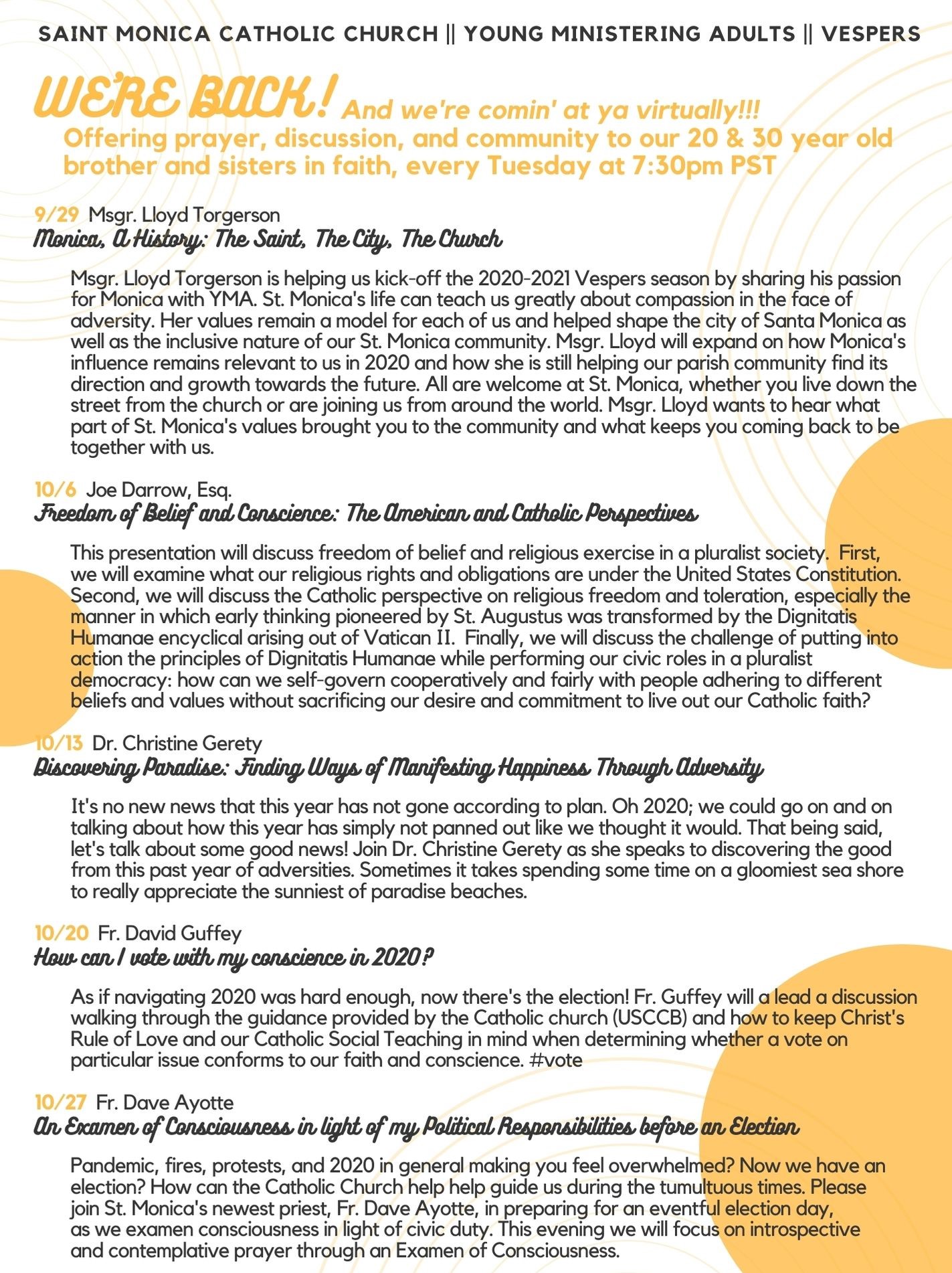 Click HERE to Register for the Zoom Link
St. Mark's Young Adult Ministry: Fall Theology on Tap!
Theology on Tap is a 4-week speaker series organized by the Archdiocese of Los Angeles for young adults 18-39. This incredible opportunity connects young adults from across the city (and this year, across the globe!) and provides opportunities to listen to and learn from renowned speakers, and to dialogue with others in areas relevant to them. Free. The series will run on Thursday evenings Oct. 15 through Nov. 5 via Zoom, at 7:00 p.m.
Social: Plans fun and welcoming on & off-site social events for young adults throughout the year.
Special Events: Hosts special events (e.g. cocktail or beach parties) that help raise funds for YMA.
Vespers: Creates and coordinates a weekly opportunity for young adults to nurture their spirituality in community; includes prayer, scripture, and discussions of topics relevant for Catholic young adults.
Retreats: Creates and conducts a variety of day and weekend retreat experiences for young adults including fall and spring retreat weekends each year.
Welcome: Welcomes new members and connects them with opportunities in the ministry and parish; coordinates Get-Acquainted Dinners and bake sales.
Peace & Justice: Hosts peace & justice service activities for young adult volunteers; offers the chance to serve in the broader community, including helping the homeless, children, the elderly, the working poor, and the environment.

To join our ministry group, complete the form below.