YMA (20s & 30s)
Contact: Delis Alejandro, or (310) 566-1530
YMA Kick Off
Celebrate the start of a new year of St. Monica Young Ministering Adults (20's and 30's) at our Fall Social Sunday, October 1. Meet old and new friends. Hear from this year's Core Team. Light refreshments served. Alcoholic beverages on sale.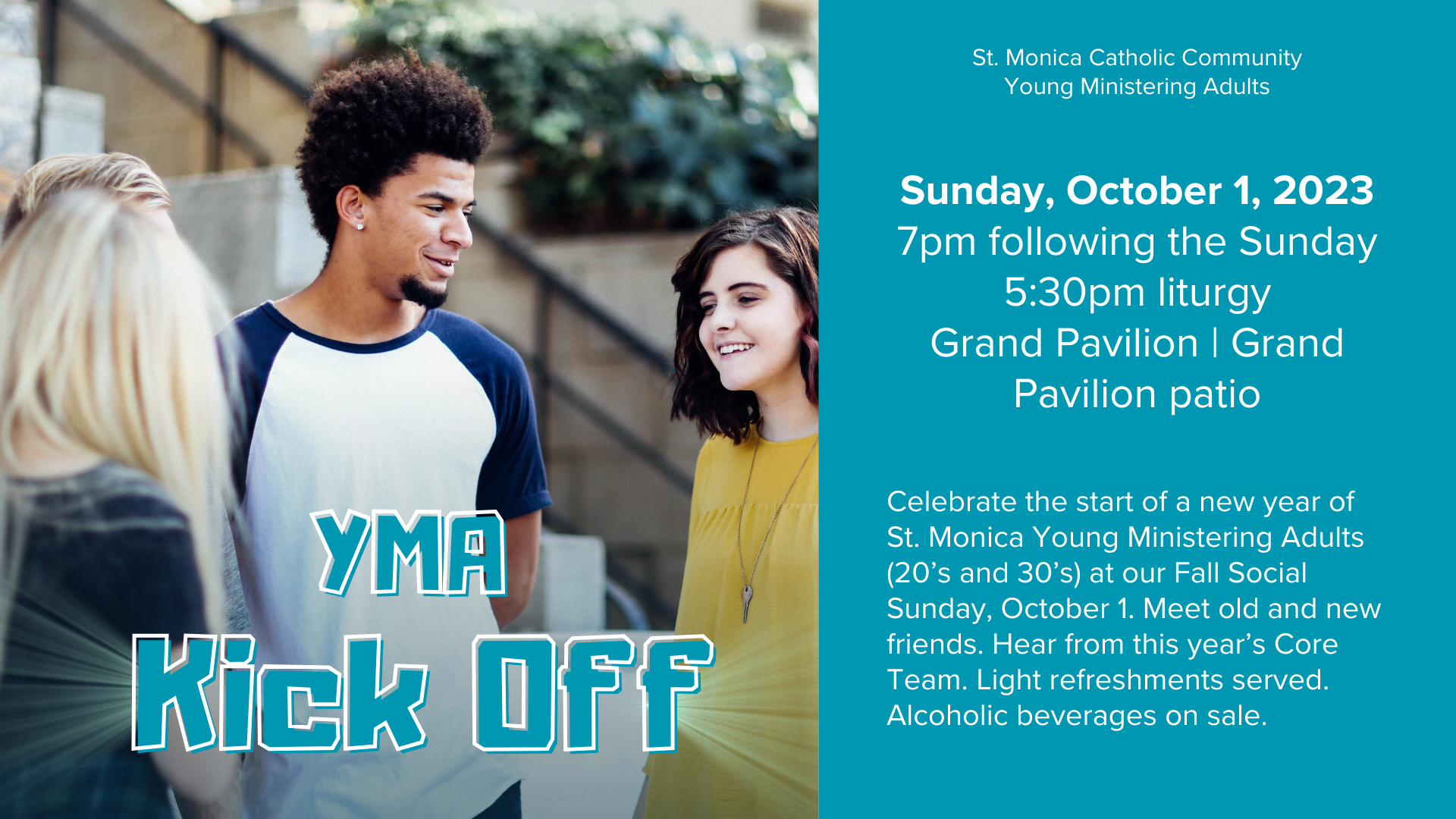 Vespers is Coming Back!
Join YMA for weekly Vespers! Our meeting features speakers, prayer, small group time, and fellowship for young adults in their 20s-30s.
Vespers will be October 3 at 7:30 p.m.!
Thanks for a great summer, YMA!
We want to take the opportunity to thank all of those who made possible a great summer of Theology On Tap.
We thank our speakers!
Meredith McCarthy, Elizabeth Johnstone, and Christine Tope
St. Monica Green Team stmonica.net/greenteam
Jennifer Wood, ASA
Consulting and Appraisal Services
Jenny Haggard
Father Felix Just, S.J., Ph.D.
We thank our TOT Planning Team!
Alexander Rosteck, Nick Mendez, Marta Castillo, Brian Handy, Delis Alejandro, Pastoral Associate
We thank all our volunteers!
Ludovica De Carolis, Lyn and Ward Brumaire, Christie Lopez, Elizabeth Sotoj, Tanya Alconcel, Gerard Convento, Jonah Zeko, Christie Carmelle.
We thank Karen Luna, Archdiocesan Director of Young Adult Ministry and the Archdiocese for their support of this favorite annual event.
We also thank those who provided some social outings for the ministry this summer!
We thank Nick Mendez for leading YMA on a Tour of the Cathedral and thanks to Emily Shields for organizing our summer social at Solidarity Restaurant in Santa Monica. We thank both the Cathedral Of Los Angeles and Natasza at Solidarity Restaurant.
YMA is now on a break until October.
Social: Plans fun and welcoming on & off-site social events for young adults throughout the year.
Special Events: Hosts special events (e.g. cocktail or beach parties) that help raise funds for YMA.
Vespers: Creates and coordinates a weekly opportunity for young adults to nurture their spirituality in community; includes prayer, scripture, and discussions of topics relevant for Catholic young adults.
Retreats: Creates and conducts a variety of day and weekend retreat experiences for young adults including fall and spring retreat weekends each year.
Welcome: Welcomes new members and connects them with opportunities in the ministry and parish; coordinates Get-Acquainted Dinners and bake sales.
Peace & Justice: Hosts peace & justice service activities for young adult volunteers; offers the chance to serve in the broader community, including helping the homeless, children, the elderly, the working poor, and the environment.

To join our ministry group, complete the form below.