St. Francis Pet Ministry
"Because all creatures are connected, each must be cherished with love and respect, for all of us as living creatures are dependent on one another." - Pope Francis
St. Francis Pet Ministry started in 2019 as an opportunity for community-building among parishioners and outreach to local agencies serving pets and their owners in need.
St. Francis Pet Ministry:
Provides spiritual and enrichment opportunities to grow in knowledge of church teaching in respecting all of God's creation.
Organizes fellowship opportunities and social gatherings to connect parishioners that have pets with each other for mutual support.
Hopes to present bereavement options to support fellow parishioners after the loss of a pet.
Supports local outreach to assist pet owners and pets in crisis with much needed food and supplies.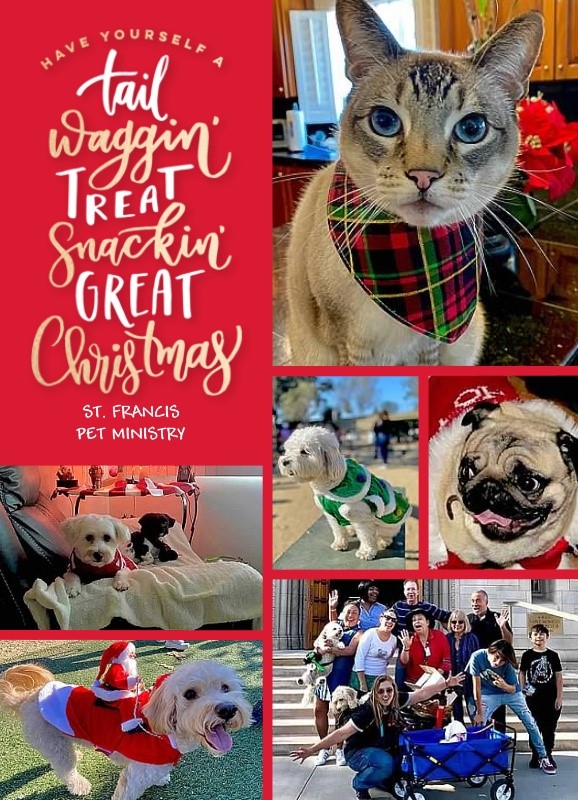 Upcoming Events
General Meeting
Thursday, Jan. 27 | 7:00 p.m.
The St. Francis Pet Ministry welcomes all to our first general meeting of 2022! We will introduce our Ministry to the wider Church and future core team members, topics including: What is the purpose and what are the plans or events coming up. More details to follow on how to sign up to attend!
Howl-O-Ween Hiking

Saturday, Oct. 30 | 10:00 a.m. | Will Rogers St. Park

Let's go hiking with our furbabies and celebrate Halloween! We will meet in the parking lot of Will Rodgers State Park around 9:30-10am. Please be advised that you do need to pay for parking ($3 per hour). Our hike should be no more than 1.5 to 2 hours round trip. Feel free to wear something Halloween festive - you may even win a prize!

Things to bring: comfortable shoes, water bowl for your dogs, water for you, disposable waste bags to pick up after your pet. Please be advised that we recommend your dog be fully vaccinated, including the lepto, influenza and rabies vaccines as they will be exposed to nature and wildlife.

Feast Day of Saint Francis of Assisi: Blessing of the Animals

Sunday, Oct. 3 | 1:30 p.m. | Car Procession - enter via Washington Ave. entrance

We celebrated the Blessing of the Animals at St. Monica with a car procession on Sunday, October 3. It was a great afternoon and Father Vince Kuna mentioned that it seemed to be "the biggest ever" with just over 30 cars with more than one family in most of the vehicles. Some walked through or came by bike as well. If you missed the event you can still bless your pet by sprinkling holy water and reciting the the following prayer:

Blessed are you, Lord God, maker of all living creatures.
You called forth fish in the sea, birds in the air, and animals on the land.
You inspired St. Francis to call all of them his brothers and sisters.
We ask you to bless this pet.
By the power of your love, enable it to live according to your plan.
May we always praise you for all your beauty in creation.
Blessed are you, Lord our God, in all your creatures! Amen.