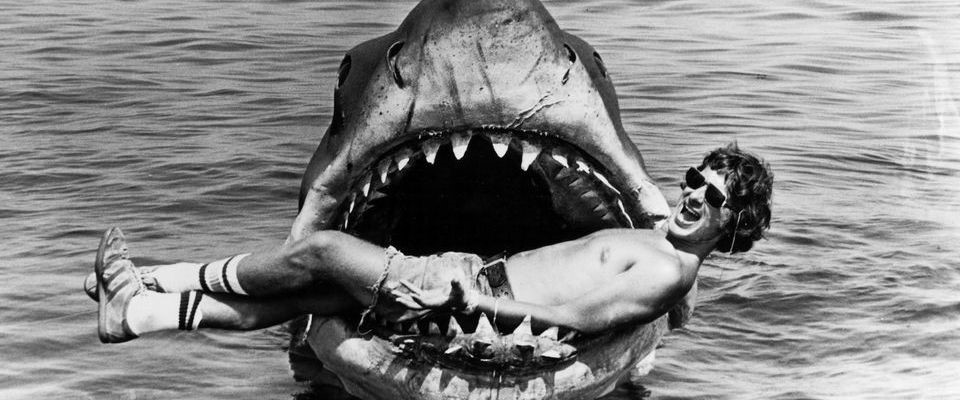 Summer Film: Jaws - In-person
Looking at Stephen Spielberg on the set of Jaws, you'd think that the filming was all fun and games; however, it was anything but. The first major motion picture filmed on the ocean brought unexpected and unwelcome surprises that ate up time, blew the budget and caused it to become an ongoing work-in-progress that the sunburned, burnt-out crew often referred to as Flaws. Yet, the young director's genius won over the odds and when the film was widely released in June 1975, it became the first bona-fide summer blockbuster in movie history.
The Film Club led by our tour guide, Fr. David Guffey, will be heading to the charming seaside village of Amity on July 21 but before you get into the water—think twice. Here are five JAWSOME facts that you'll want to know before you join us to meet Jaws.
The score—John Williams ominous two-note score became synonymous with approaching danger in the film. Williams said the two relentless notes played by a tuba were intended to "grind away at you, just as a shark would do, instinctual, relentless, unstoppable." Spielberg, who thought Williams was kidding him when he first presented the minimalist score, now believes that without the score, Jaws would have been half as successful.
The shark's eye view—When you get lemons, make lemonade. Spielberg's extremely complex and expensive 25-foot mechanical sharks, essential to the original concept of the film, were a nightmare. They didn't work as expected. The creative young director changed his strategy on a dime and decided to minimize the role of the mechanical sharks and to film the shark attacks from the perspective of the shark seeking his prey, adding to the film's terror and suspense. (Kind of like what Hitchcock would have done.) In fact, the film doesn't show the shark for an hour and 21 minutes. By the way, the mechanical sharks were known collectively as Bruce, named after Spielberg's lawyer.
The clapperboard had teeth—A little known fact is that the usually flat edges of the wooden clapperboards used to designate and mark the various scenes and takes of Jaws were a set of carved shark teeth. A clapperboard from the film sold at auction for $128,000 in 2016. In the 1990s, wooden clapperboards began to be replaced by digital ones. Although there is a market for clapperboards from classic films, this one is considered expressly unique by collectors.
The shark stank—A critical scene sees the townspeople on the dock celebrating the capture of the presumed killer shark. In preparing for the scene, the local fishermen were unsuccessful in capturing a shark that was big enough for the shot, so the production crew had to look elsewhere. A 13-foot shark captured in Florida was flown on a private plane to location in Massachusetts. By the time the cameras were ready to roll on the townspeople cheering the capture of what they thought was Jaws, the shark was decomposing and smelling rather rank to the dismay of all those involved in the scene.
Surprise attack—The actress who went for her famous last dip in the first minutes of the film was unaware of exactly what was in store for her (other than getting eaten by an invisible shark). Spielberg attached cables to her but she wasn't warned when and how she would be violently jerked left to right and down to simulate the attack. Her onscreen shock was genuine. To capture the sound of her drowning, she was recorded in post-production as water was poured down her throat. Really? Yes.
Recap: Hiding in Plain Sight
Ken Burns' opening filmed message at the Film Club event, Hiding in Plain Sight: Youth Mental Illness on June 8, summarized the issue at hand. He said, "As a society, we continue to test the resiliency of youth without truly understanding how the stresses of today, including this unprecedented pandemic, are impacting them." His message was followed by a 30-minute preview of his new documentary that listened and learned from young people who have experienced mental health challenges firsthand. The film will be aired in its entirety over two nights, June 27 and June 28, on your PBS station. You can see the film's trailer here.
After viewing the preview, it's safe to say that the audience agreed with Burns when he said, "It is a remarkable journey that captures the unique voices of these young people as they navigate an extraordinarily difficult era in our history." Having seen the film, Fr. David Guffey, CSC, moderated an informative and important panel discussion. The Film Club thanks Fr. Guffey, our guest panelists and the Film Club members who helped at the event.
All the panelists alluded to the fact that mental illness is a significant health crisis—as pervasive as cancer, diabetes, and heart disease—but it often exists in secret and is endured in isolation. Tom Chiodo, panelist and an Executive Producer of the film, noted that "nobody talked about having cancer 20 years ago" and now it is something that people openly acknowledge. This allows them to receive earlier interventions, appropriate care and the support of other family members and friends. Left undiag­nosed, mental illness can last a lifetime. Left untreated, it can lead to addiction, homelessness, prison, or even death.
Panelist, Dr. Tom Insel, Neuroscientist, Psychiatrist, Former Director of the National Institute of Mental Illness, advisor to Governor Newsom, cautioned that although mental illness is a disease, it's different from a physical ailment and the medical community should treat it as such. New ways of thinking and delivering individual care are making inroads into patients' longer-term wellbeing and recovery. He discussed several innovative programs being considered in California to not only deal with the crisis but find ways to prevent it from continuing at such unchecked rates.
Panelist Keris Jän Myrick, PhD, Co-director, S2i, a mental health "think and do" tank, Board Member of the National Association of Peer Specialists (N.A.P.S.) and former Board President, National Alliance of Mental Illness (NAMI), spoke of her own path from the paranoia and despair of a schizoaffective disorder to wellbeing and a highly productive life. Her innovative and transformational thinking, advocacy of "whole person" care and equal access to care were apparent in her comments.
Dr. Christine Gerety, panelist, will soon become the Director of Spiritual Care & Engagement at St. Monica Catholic Community. She is trained as a clinical psychologist and has been involved with ministry for 20 years. Christine's comments emphasized the importance of community, family, friends and faith in recovery. She shared several real-life examples of times when caring individuals helped others return to wellbeing, overcoming what appeared to be insurmountable obstacles.
Please keep in mind: There are resources available to help young people in need of treatment as well as their friends and loved ones. Go to WellBeings.org for more information. Within St. Monica, you are always welcome to contact Christine Gerety at .
A story that needs to be told
"We hope that this film will save lives," said executive producer Ken Burns. "As a society, we continue to test the resiliency of youth without truly understanding how the stresses of today, including this unprecedented pandemic, are impacting them." The film features first-person accounts of over 20 young people—ages 11 to 27—and their parents, teachers, friends and healthcare providers as well as independent mental health experts. Through the experiences of these young people, the film confronts the issues of stigma, discrimination, awareness, and silence, and, in doing so, helps advance a shift in the public perception of mental health issues today.
According to Eric Ewers and Christopher Loren Ewers, "We interviewed a diverse group of courageous young people from across the country with a range of diagnoses who spoke openly with us, and shared intimate, and often painful, details of their mental health journeys. We hope that by bringing these experiences to a broadcast and online audience, our film will help shed light on how commonplace—how truly universal—mental health challenges are and encourage other young people who are struggling to seek help. As the pandemic has made clear, caring for the mental health of kids, teenagers, and young adults is more vital than ever."
The film is part of a bigger initiative
Hiding in Plain Sight: Youth Mental Illness is a central part of Well Beings, a multi-year, multiplatform health campaign including other feature-length documentaries, short-form original digital content, user-generated storytelling, a digital and social media campaign, community events, and educational curriculum created by WETA with support from a broad coalition of national and local partners. WETA, founded in 1961, is a leading public broadcasting station, providing educational, cultural, news and public affairs programs and services.
Valuable Resources
You can join the conversation on youth mental health by visiting WellBeings.org, or following @WellBeingsOrg on Instagram, Facebook, or Twitter, and via #PlainSightPBP and #WellBeings. More information on this PBS webpage.
If you are in crisis, or experiencing thoughts of suicide, please text the Crisis Text Line (text HELLO to 741741), or call the National Suicide Prevention Lifeline at 1-800-273-TALK (8255). Both services are free and available 24 hours a day, seven days a week.
It's a Wrap: Life of Pi
It's likely that the director of Life of Pi, Ang Lee, would have been thrilled hearing the insightful comments about his film at the March 7 Film Club event. The film was appreciated on many levels—far beyond its stunning cinematography and amazing special effects. On a deeper level, our guests saw Life of Pi as a film rife with symbolism that explores the meaning and endurance of faith in the face of seemingly insurmountable odds. Safe to say, the consensus was that Life of Pi is a motion picture experience one won't easily forget.
Next month, the Film Club will be discussing a film in which a man suffers a conflict of faith stemming from his unbridled jealousy over another man's talent. Join us!
It's a Wrap: Oscars®
Oscar® times two
The Film Club can't help itself…why have only one Oscar event when you can have two? Here's a recap of these great nights.
And the winner should have been… February 10 on Zoom—Three Film Club aficionados—Tina Jordan, Brian Frates and Fr. David Guffey—each took on a past Oscar Best Picture with arguments as to why their favorite film should have taken top prize instead. Not to let the challengers go unchallenged, filmophile Clare Denk reminded the group why the winners won. In other words, why Oscar got it right. The rest of the evening was a lively debate about the merits of these films and others as well.
Oscar-nominated film review March 3 in-person event—It was that time again…time to look at the 2021 films nominated for the Academy Awards on March 27. Fr. David Guffey hosted the night, showing trailers from all 10 nominated films and leading discussions on each. Then, the big moment arrived, and everyone was asked to cast their vote for the year's Best Picture. The clear winner was CODA and, if things go like they have in the past, the Academy is likely to agree with the Film Club's choice.
That's A Wrap: Do the Right Thing
Film Directing Part 1: Spike Lee and Do the Right Thing
Thursday, Nov. 11
THE DIRECTOR—Spike Lee grew up in Brooklyn, New York, an area that would work its way into many of his films. His mother, an enthusiastic supporter of black art and literature and his father, an African American jazz musician, helped establish their son's African American identity at an early age. Throughout his career, Lee has been unafraid to take a critical look at race relations, political issues, urban crime and violence. From his earliest days as a filmmaker, he's wanted his films to capture the black experience.
His early successes showed Hollywood that Lee's films were bankable and helped create an industry-wide awareness of an untapped market niche. Thanks to his films, Hollywood began to open its doors to other African American filmmakers. Find out more about Spike Lee, his life and career, CLICK HERE.
THE FILM—It's been said that the enduring power and relevance of Do the Right Thing would have secured Spike Lee a place in film history, even if he'd never made another film. When released in 1989, reviewer Roger Ebert said, "Anyone who walks into this film expecting answers is a dreamer or a fool. But anyone who leaves the movie with more intolerance than they walked in with wasn't paying attention."
Director Lee, who was 32 when he made the film, is credited for his ability to artfully manage both drama and humor. The story takes place on what started as an ordinary—although extremely hot—day in Brooklyn's Bedford-Stuyvesant neighborhood. The day ends in tragedy as racial tensions between the African American neighbors and an Italian American business owner bubble over after a young black man is killed by white police. The film's social commentary on the effect that race has on police brutality is just as relevant today as in 1989.
The cast is pitch perfect and stars Lee in a key role as well as Danny Aiello, Ossie Davis, Ruby Dee, Samuel L. Jackson, Bill Dunn, John Turturro and then-newcomers, Martin Lawrence and Rosie Perez. The film is rich with characters who are very much part of their community, their neighborhood. They've been said to be "iconic and individual" at the same time. We get to know their faces, hear their voices and walk in their shoes through Lee's witty, streetwise script.
2021 Survey: the Results Are In
Film Club! We've calculated the results of the 2020-2021 season-end survey. Thanks to the 74 respondents for your support, insightful comments, and some excellent suggestions. Here's an overview of the results:
Favorite film—Julie & Julia was the clear winner.
Oscar® Night—There was a close race between those who preferred our 2021 format (And the winner should have been…) vs. our previous format (viewing and discussing trailers for the Best Picture nominees). A third group liked both! So, no clear results there.
Film Club format—Again, we had a diversity of opinion. One camp said "in-person," a similarly sized camp said "online," and a third camp said they had no preference. The comment section led us to believe that those preferring the in-person Film Club events missed watching the movies together and getting out for the night, while those preferring the Zoom format commented on its convenience and the insightful conversation.
Timing—Here's something most people agreed on! The length of the Zoom events (about 1.5 hours average) was "just right." We'll keep this in mind as we plan our future in-person events which previously ran about 3 hours.
That's A Wrap: A Man for All Seasons
A Look Back at an Extraordinary Man
Film Club is back from a whirlwind trip to Tudor England—and what a trip it was! We dropped in on Sir Thomas More in 1520 and became immersed in his controversy with King Henry VIII. More sacrificed his life rather than sanction the King's schism with the Roman Catholic Church and his divorce from Catherine of Aragon.
This was our 2020-2021 season finale. We welcomed over 50 guests and, as you can imagine, the discussion focused on More's unwavering integrity and faith as well as the superb filmmaking. A Man for All Seasons won six key Oscars and, looking at it 55 years after its release, you can see why it was such an awarded effort.
That's A Wrap: Oscar® Night
Over 60 Film Club fans turned up for our "reimagined" Oscar® Night on Apr. 8. Instead of focusing on this year's nominated films that few people have seen, we went back to yesteryear to look at films that some think "should have won" Best Picture honors. Four panelists and film experts, Clare Denk, Fr. Mike Russo, Brian Frates and Fr. David Guffey, made their cases to overturn previous Best Picture awards. A quick poll in breakout groups gave a nod to each of these panelists and their suggestions. Therefore, the Film Club is proud to announce that Best Picture awards should have gone to Wizard of Oz (1939), Citizen Kane (1941), Giant (1956) and Raging Bull (1980). The evening left plenty of time for participants to chat about disappointments that they'd experienced with past Oscars®, resulting in much animated—and definitely delightful—conversation. A special moment capped the evening: The Film Club awarded its first Lifetime Achievement Award. The recipient was our own Fr. David Guffey to honor his 30th Anniversary as a priest of the Congregation of Holy Cross.
That's a Wrap: Star Wars
A long time ago in a galaxy far, far away ...
We took off on a galactic journey on Mar. 8 when we discussed 1977's Star Wars and its ground-breaking special
effects. The event brought lots of insightful conversation and shared memories…even Princess Leia and an Imperial officer showed up! Although the special effects in this first Star Wars are remarkable, especially for the time in which they were created, the essence of the story is what keeps the film a favorite for generations of movie goers. Fr. David Guffey, CSC, Director, Family Theater Productions, said, "It takes more than visual effects to make a movie impactful." Star Wars' enduring themes of honor, friendship and combating evil, as presented in its mythical universe, appeal to the best in us. The film challenges us and transports us. In writing about the film in 1977, critic Robert Ebert said, "…the magic of Star Wars is only dramatized by its special effects; the movie's heart is in its endearingly human (and non-human) people." (1977's first Star Wars has been retitled Star Wars Episode IV—A New Hope since it now has three prequels.)
That's A Wrap: Amélie
Love was in the air…
The Film Club shared a delightful evening on Feb. 11 talking about Amelie, the shy, clever and generous heroine of the movie that bears her name. As a child starved for love, she grew into a young woman living within herself…not sure how to find love. By happenstance, she realized she could find joy by cleverly and covertly helping others become happier. And, in the end, through the wisdom and concern of a neighbor with whom she shared time, she was able to take the big step and seek the love and affection that she so wanted. As discussion leader, Father David Guffey, said, "Amelie's desire to make other people have more joyful lives eventually opens her up to love." This charming, modern-day fairytale, set in a perfect Paris, has a happy ending for those who knew Amelie and for Amelie herself.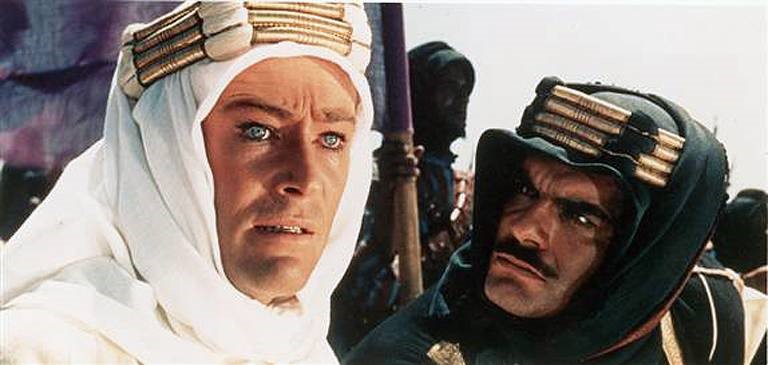 We're Back from the Desert...
The shimmering sands and endless vistas of the desert were the topic of discussion as the Film Club focused on the cinematography in the epic Lawrence of Arabia. The majestic landscape was itself a character in David Lean's revered film and, with the help of discussion leader, Father David Guffey, we were able to envision the difficulties and intricacies of filming a movie of this magnitude in such a challenging environment.
The movie portrays the exploits (real and exaggerated) of British military man, T. E. Lawrence. Despite the grandeur of the film, it offers an intimate look at a time and place full of daring-do and political intrigue and a world in the midst of difficult cultural and economic transition. The portrait of Lawrence, played by then-newcomer Peter O'Toole, shows a man looking for his next success but not learning from his failures. His charisma won him followers. His exhibitionism earned him fame. His ego allowed him to be manipulated. And in the end, did anyone really know who he was…including himself?
Christmas Movies Lit Up the Night
The Film Club kicked off the holiday season with a look at a very American film genre, the Christmas movie. With all the Christmas movies from which to choose, there were several winners (all classics), when guests were asked to choose favorites in several categories: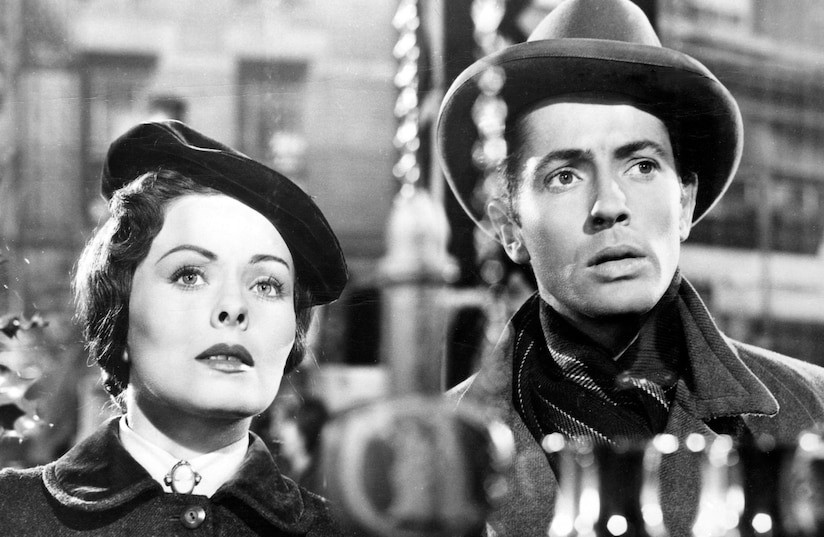 Best-ever movie Santa (number one choice): Edmund Gwenn who played Kris Kringle in Miracle on 34th Street (1947)
Your personal "can't-ever-miss" Christmas movie (too close to call): It's a Wonderful Life (1946) and A Christmas Carol (multiple versions)
Best Christmas movie angel (a toss-up): Cary Grant who played Dudley in The Bishop's Wife (1947) and Henry Travers who played Clarence in It's a Wonderful Life (1946).
The film version of a classic Christmas story was also discussed that night—O. Henry's The Gift of the Magi. It was part of the 1953 film anthology, O. Henry's Full House. You'll remember, the story is about a young couple who each, unbeknownst to the other, sacrificed their most precious possessions to buy the other the perfect Christmas gift. Ironically, she sold her beautiful hair to buy him a chain for his heirloom watch and he sold his watch to buy her ornamental combs for her hair. The power of O. Henry's writing—on- and off-the-screen—had the Film Club talking about the twist ending—and the power of love—103 years after the short story was first published.
After a night of Christmas films past, Father David Guffey, who led the night's discussion, shared some meaningful thoughts. He said, "Wonderful things can happen if we leave room for them to occur, even in what may seem to be far off from the ideal Christmas. We've all seen how Christ can come in very unexpected ways. How can we make room for grace to break in? As we approach this Christmas, let us consider how we can be the angels, the Santa's, the bearers of light? How can we bring grace into others' lives?"
Julie & Julia Dished up a Great Evening!
The November Film Club served up a delightful feast for over 50 Film Club members who discussed Norah
Ephron'sfilm, Julie & Julia. The movie centers on a contemporary food blogger, Julie Powell, and her culinary idol, Julia Child. Their connection was Julie's famous cookbook, Mastering the Art of French Cooking, now approaching 2-million copies in print. As part of the Film Club's Art of the Cinema series, our focus was the film's costuming by Hollywood veteran, Ann Roth, that subtly and successfully bridged the time gap between the women's lives and highlighted the parallel challenges they faced generations apart. One participant said, "I'll never look at a movie the same again. It was really remarkable how the costumes helped tell the story and hold the film together."
Click Here to Download the November Discussion Guide!
That's a Wrap: Mission Accomplished
On Oct. 8, Film Club discussed the powerful film, The Mission, made even more so by the soaring score composed by the legendary Ennio Morricone. The music creates the backdrop for this compelling drama that depicts a time when church, state and greed created an unholy alliance in 18th century South America. The score artfully combines liturgical chorales, native drumming and Iberian-influenced music, giving voice to the various constituencies involved in the conflict that arose over a Jesuit mission, the indigenous Guarani it served, and the Portuguese who wished to conquer and exploit both.
Audience takeaways included the role the score plays in following the arc of the story, beginning with the simplicity of the melodious Gabriel's Oboe to the complex On Earth as It Is in Heaven. Attention was also paid to the outstanding cinematography (it won the Oscar) and how it is made even more memorable by its musical accompaniment. Most agreed that The Mission is a remarkably moving film—one they won't soon forget.
Hickory dickory dock…Hugo ran the clocks
September's Film Club discussion of Martin Scorsese's first (and only) family adventure—Hugo—kicked off our 2020-2021 Art of Cinema season on a truly positive and uplifting note. The winner of five Oscars, the movie centers on the exploits of an orphaned boy who secretly keeps the clocks running in a 1930's Parisian train station. His solitary life changes when he is befriended by the adventurous Isabelle. Through his interaction with her and others (including an automaton!) and his need to fix things (including himself), Hugo eventually creates his own sense of belonging and positively influences the lives of others who frequent the station. One of the people he meets and impacts (and vice versa) is real-life French film pioneer, Georges Méliès, who is Isabelle's grandfather. The film was a glimpse into Méliès' genius that repurposed his considerable skills as a magician to those of an early and notable film producer. You can see Méliès' ground-breaking 1902 adventure film, A Trip to the Moon, that's featured in Hugo, here.
Hugo is adapted from Brian Selznick's 2007 book The Invention of Hugo Cabret that spent 42 weeks on the New York Times best seller list for children. Selznick has some Hollywood in his blood: He is the grandson of legendary Hollywood producer, David O. Selznick. For more about the adapted screen play, check out Fr. Vince Kuna's blog on the topic.
Hugo has many outstanding qualities, including its award-winning soundtrack. Two of its Oscars were for sound (best mixing and best editing)—while others were awarded for cinematography, production design and special effects. While acknowledging all of these technical accolades, many in the Film Club felt that Hugo and it's lasting appeal has more to do with the wonderfully told story about opening yourself up, reaching out and embracing the purpose of your life.
Click Here to Download the September 2020 Discussion Guide!
Just Mercy
The film, Just Mercy, was the focus of July's virtual Film Club. Based on an actual case in the early career of Byron Stevenson, now an acclaimed public interest lawyer, the film shows not only Stevenson's unbending desire to seek justice and mercy but also gives the viewer an unsettling glimpse of what it's like to be helplessly and unjustly accused or imprisoned. The film, set in 1980s Alabama, portrays a justice system that often delivered just the opposite to the poor and people of color.
Joining in the conversation led by Fr. David Guffey, CSC, Director, Family Theater Productions, was Monsignor Torgerson and 77 Film Club followers eager to share their reactions to the movie. Fr. Guffey said, "Great storytelling in film offers us a way to live inside the life of other people to share in their experiences and so widen our perspective on life. Though the real events on which the film was based occurred over 30 years ago, the issues of race-based prejudice are remarkably contemporary. This makes the film especially important now. It is important to have the conversation we had at Film Club. It will be important to continue the conversations about race as we listen to the stories of people most affected, and together envision ways of reform based on the universal dignity of every person as a beloved child of God."
Many also commented about Bryon Stevenson and his inspirational life's work. One person said, "When you look at what he decided to do, you have to believe that he was guided by the Holy Spirit." The Monsignor commented, "As a young man, he could have written his ticket and gone to any important law firm. Instead, he chose a more difficult and rewarding path."
Indeed, Bryon Stevenson is the hero of the film and his work continues today. You may be interested in reading about two of his recent projects—a memorial and a museum in Montgomery, AL—designed to recognize the suffering of many while serving as a catalyst for informed, societal change. Click on the links to find interesting stories about The Legacy Museum and the Memorial to Peace and Justice.
The Film Club will not be discussing a movie with you in August so we can take the time to prepare for next season when our Art of Cinema series returns. We'll be giving you news as it evolves at stmonica.net/filmclub—and we can hardly wait (as the old song goes…) to see you in September.
Little Women
It had been a long hot day leading up to the virtual Film Club on June 11, but you'd never know it listening to the animated discussion about Greta Gerwig's Little Women. Fr. David Guffey led the discussion and Fr. Vince Kuna offered his perspectives, as he compared the book with the screen adaptation. Guests were given the chance to have an "around-the-dinner-table" discussion in break-out groups, before a general discussion that touched on Gerwig's unique and contemporary approach to the classic story, the outstanding acting, character development, cinematography, set design, choreography and even the story's backdrop: The Civil War.
Click Here to Download the Discussion Guide for Little Women
Field of Dreams
It's true. If you build it…they will come
Over 100 people joined the Film Club's virtual get together on May 14, featuring Phil Alden Robinson, Director and Screenwriter of our film of the month, Field of Dreams. The conversation afforded an insider's view of how the film evolved from a novel to a major motion picture and let us in on the challenges and rewards along the way. A big thank you to Phil Robinson, our guest, Fr. David, our moderator, and all of you who helped create such a wonderful evening.