Delis Alejandro, (310) 566-1530 or
Acting: Four Parts

Film Club! The season is off to a great start. Following our in-person event on Sept. 8 that focused on the evolution of screen acting, this season's Art of Cinema series on Zoom will delve more deeply into the craft of acting. Over the season, we'll discuss four actors and how they approached their roles as famous individuals and, since each role was portrayed at a different time in cinema history, we'll also be able to see how the biopic has progressed over eight decades. We look forward to discussing these notable performances with you:
· Henry Fonda as Abraham Lincoln in Young Mr. Lincoln (1939)—Oct. 13
· Sissy Spacek as Loretta Lynne in Coal Miner's Daughter (1980)—Nov. 17
· Colin Firth as King George VI in The King's Speech (2010)—Jan. 12
· Cynthia Erivo as Harriet Tubman in Harriett (2019)—Feb. 9
Film Club Zooms begin at 7 p.m. Please be sure to register for the 2022-2023 season of Zooms and retain the personal Zoom link that you will receive as part of the confirmation process.
Register HERE for the 2022-23 Zoom Sessions
Click HERE for Registration Fee or Donations
Film Acting4: Cynthia Erivo and Harriet
Thursday, Feb. 9| 7 p.m. | Zoom
February is Black History Month, an ideal time to celebrate the life of Harriet Tubman. Her life was the stuff that great movies are made of—an escape from slavery, peril, and against-all-odds heroism. In 1849, after securing her freedom, Tubman became a "conductor" on the "Underground Railroad," a network of secret routes used to lead slaves to the North. She made the arduous journey time and again, being aptly referred to as "Moses."
Harriet, released in 2019, is an adventure-packed and inspirational retelling of Tubman's tale. The film follows Tubman from her days as a slave, known as Minty Ross, to her years of valor as Harriet Tubman, her self-chosen free name. The movie focuses less on the brutality faced by 19th-century slaves and more on the human stories of family separation, heartbreaking choices, the grueling reality of escaping, and Tubman's ingenuity and determination.
Cynthia Erivo plays Tubman, a role that required not only acting chops but also the strength and energy to recreate Tubman's exploits, including leaping off bridges, wading through bogs, swimming in rivers, galloping through forests and climbing cliffs—all in 19th-century costumes. Harriet was Erivo's third film, although she was already an accomplished Tony and Grammy-winning stage performer when cast. Selecting a Brit for the role of an American heroine initially caused a stir. To counter this, Erivo said, "Before I am British, I'm a black woman."
Tubman was a person of faith who would often appeal for divine intervention in tough spots. Tubman, whose skull was fractured as a child, alluded that this injury made her closer to God. In the film, Erivo, as Tubman says: "The hole in my head made God's voice clearer." The film presents Tubman's religious fervor as a powerful gift and force in her life. Erivo, a product of Catholic education, said she prayed daily to adequately represent Tubman's faith.
Critics agree that one of the film's greatest assets is Erivo's riveting, multi-layered performance that earned her best actress nominations from the Oscars, Golden Globes, and Screen Actors Guild. Erivo said of Tubman, "She was a human being with the full scope of emotions: sadness, love, happiness, all of that. We wanted to make sure people knew that of her." Joining Erivo in the cast are the talented Leslie Odom Jr. and Janelle Monae, playing antislavery activists who assist Tubman once she reaches freedom in Pennsylvania.
Before the Film Club meets on Thurs., Feb. 9 at 7 p.m. on Zoom to discuss Harriet, you can see the film on Amazon Prime, Apple TV, Google Play, HBO Max, VUDU (free with ads), and other streaming channels. To join our Zoom events, you must register HERE to receive your personal Zoom link for the season.
Film Acting Part 3: Colin Firth and King's Speech
Thursday, Jan. 12 | 7 p.m. | Zoom
The King's Speech is a superbly well-acted WWII historical drama about the reluctant ascension of King George VI to the throne of England, his embarrassing stammer, and the unlikely speech coach that his wife, Elizabeth, brought his way. Colin Firth immersed himself in the role of the king, winning a well-deserved Best Actor Oscar in 2011.
Firth, a classically trained British actor, did not shy from the role when offered. Not only would he be playing the king who would lead the British Empire during World War II but, to do so, he had to portray someone trying to conquer a life-long stammer. The king saw eliminating the stammer as a matter of duty. His role in those dark times would be to inspire and assure his people, and unlike times before radio, the king's words would be heard as they were broadcast worldwide.
In preparing for the role, Firth felt his greatest challenge was to get the stammer right. He studied early recordings of the king's pre-therapy voice. Firth said he was not doing so to imitate the king but to capture his version of the speech impediment and "the tightness that so many members of his class suffered from, that terrible reserve." In portraying the king, he said that he "did not try to play the stammer but to play trying not to stammer."
In addition to Firth's nuanced portrayal of the king, Geoffrey Rush took on the role of Lionel Logue, the speech therapist. The king and Logue had radically different life experiences and personalities as well. Logue, unimpressed that his new student was the king, insisted on calling him by his nickname, Bertie. Rush's Logue—like the man himself—encouraged, teased, and tested the king to get results. That disarming familiarity developed into a trusting relationship and a lifelong friendship between the two men.
Helena Bonham Carter played Elizabeth, the future Queen Mother and mother of Princesses Elizabeth and Margaret. Carter was somewhat nervous about accepting the role since the Queen Mother was so well-known and beloved. Yet she was drawn to her "common touch" and her relationship with the king. She said, "Bertie wasn't really born with the self-confidence needed to be king. Whereas the Queen Mother did have it…he drew on her strength."
The King's Speech went home with four Oscars in 2011: Best Motion Picture, Best Actor in a Leading Role, Best Directing, and Best Original Screenplay. Geoffrey Rush and Helena Bonham Carter were both nominated for their supporting roles. You can see the film on Amazon Prime, Apple TV, Google Play, VUDU, Disney+, the Roku Channel, and more before our discussion. To join our Zoom events, you must register HERE to receive your personal Zoom link for the season.
Film Acting Part 2: Sissy Spacek and Coal Miner's Daughter
Thursday, Nov. 17| 7 p.m. | Zoom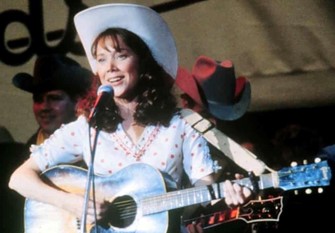 Loretta Lynn's rags-to-riches-to-crisis-to-comeback tale is chronicled in her 1976 autobiography, Coal Miner's Daughter. The book hit the big screen in 1980, garnering rave reviews not only for the very human and moving story behind the "queen of country music" but also for Sissy Spacek, who portrayed Lynn. At that time, top critic Roger Ebert commented that the film was "more intelligent and observant than movie biographies of singing stars used to be." He continued that the film is "fresh and immediate," due most of all to Spacek and the "magical chemistry" she creates.
Spacek did not audition for the role. Lynn chose Spacek after seeing her photograph. Spacek, who had started her career as a singer, was not convinced that the role was for her; however, on her way to meet Lynn, she heard "Coal Miner's Daughter" on the car radio and took that as a sign to say yes.
Spacek delivered a complex and nuanced performance, effectively portraying Lynn from the age of 13 (she was a child bride) to her early 30s. What's more, Spacek sang the score—on Lynn's insistence. That score, comprised of Lynn's frank and often defiant songs about life and love of a woman living in Appalachia, is a testament to why Lynn became a pillar of country music. She recently died at age 90.
Spacek's portrayal earned her a Best Actress nods from the Academy Awards and the Golden Globes. The film also won Best Picture at the Globes. The soundtrack album went gold.
Supporting Spacek is the noteworthy performance of Tommy Lee Jones. He portrays Lynn's husband of 50 years, "Doolittle" Lynn, a complex man, who promoted Lynn's talents as much as he brought her heartache. Jones was nominated for a Golden Globe for his work in the film. Playing Patsy Cline, Lynn's friend and fellow performer, Beverly D'Angelo stepped to the mic and sang Cline's songs—and received a Golden Globe nomination for her efforts.
In preparing for her role, Spacek taped Lynn telling stories about her life. She listened to the tapes and repeated what she heard until she captured her own version of Lynn. Once she found Lynn's voice, Spacek never dropped the accent on set. Spacek followed Lynn on the road, learned her songs and "regretted" the end of the project when she couldn't be Loretta Lynn any longer.
About her career as an actress, Spacek said that she is not a "trained" actor, although she spent a short time at the Lee Strasburg Institute. She said, "I had never acted before I took classes there. It evidently planted a seed that grew. The things I learned had to do with using your own life to inform your work. That's what I did. Every choice that I made had to do with that simple lesson."
You can stream the film prior to our discussion at Amazon Prime, Apple TV, Google Play, VUDU, the Roku Channel, and others. To join our Zoom events, you must register HERE to receive your personal Zoom link for the season
Film Acting Part 1: Henry Fonda and Young Mr. Lincoln
Thurs., Oct. 13 | 7 p.m. | Zoom
What a way to start our look at actors and biopics—a masterful performance in a masterpiece film. This 1939 classic has passed the test of time by earning a 100% rating from today's super finicky critics on Rotten Tomatoes. The movie is 1939's Young Mr. Lincoln, director John Ford's dramatized account of Abraham Lincoln's early days in Illinois before national events dictated his ultimate destiny. It stars the respected actor, Henry Fonda, giving a not-to-be-missed performance.
We get to know Lincoln as a young man finding his way in life, choosing a career in law, dealing with love and loss, and bringing his legal talents to bear in his first murder case. Henry Fonda's portrayal embodies the characteristics that we ascribe to Lincoln. His Lincoln is thoughtful, kind, clever, plain spoken, modest, courageous, and protective of what is right and fair.
One reviewer said, "Henry Fonda's characterization is one of those once-in-a-blue-moon things: a crossroads meeting of nature, art and a smart casting director." Another observed, "Rangy, folksy, slow-spoken and self-deprecating, Fonda embodies the young Honest Abe persona as comfortably and naturally as the frontier clothes he wears." Young Mr. Lincoln was selected for preservation in the United States National Film Registry by the Library of Congress.
Legend has it that Fonda originally turned down the role, saying he didn't think he could play such a great man. He changed his mind after director John Ford asked him to do a screen test in full makeup. After viewing himself as Lincoln in the test footage, Fonda liked what he saw, and accepted the part.
This film is one of many noteworthy works by John Ford, who helped craft our perceptions of the American past. In Young Mr. Lincoln, Ford proved once again that he was both a great storyteller and a remarkable visual artist. He knew just where to place the camera and his actors are often framed by dramatic vistas. Ford and Fonda would go on to collaborate on Drums along the Mohawk (1939), The Grapes of Wrath (1940), My Darling Clementine (1946), The Fugitive (1947), Fort Apache (1948), and Mr. Roberts (1955).
Henry Fonda exemplified not only integrity and strength but also an ideal of the common man fighting against social injustice and oppression. His subtle laid-back acting style won him roles as plain-speaking idealists. He passed away in 1982 with 123 films and 18 Broadway shows to his credit. About his public image he once quipped, "I'm not really Henry Fonda. Nobody could have that much integrity."
You can stream the film prior to our discussion at Amazon Prime, Apple TV, Google Play, iTunes, You Tube, VUDU, the Roku Channel, and others. Remember to register HERE for your new season of Film Club Zooms.
2022–23 Season
We look forward to seeing you in-person and on Zoom.
Date

Topic

9/8

In-person (Acting introduction + panel)

9/29

In-person (Film + discussion—Don't Look Up)

10/13

Zoom (Acting—Young Mr. Lincoln discussion]

11/17

Zoom (Acting—Coal Miner's Daughter discussion)

12/8

In-person (Holiday—A Christmas Carol Competition)

1/12

Zoom (Acting—The King's Speech discussion)

2/9

Zoom (Acting—Harriet film discussion)

3/9

In-person (Oscar clips/voting)

4/13

Zoom (The winner should have been…TOPIC: Best Actors)

5/11

In-person (Film + discussion—classic film noir TBD)
Film Club Fans: We need your support!
Film Club is committed to bringing "screenings with meanings" to the greater St. Monica community. Thank you for being a vibrant part of our ministry —and attending our Zoom and in-person events.
There is another way to show your support: make a donation today!
There are two ways to make a donation:
1.) Online donation:
CLICK HERE TO MAKE A DONATION!
2.) Send a check to our Parish Office. We ask that you make the check out to "St. Monica Catholic Community," and note in the memo line "Film Club."
Thank you again for your support and we will be seeing you at Film Club!
If you are not on the Film Club e-mail list and wish to receive promotion matierals for future events, click the link below!

Click Here to Join Our E-mail List!

*Sample e-mail to the left!

Calling all Industry Insiders!

Fr. David and the Film Club would be thrilled to receive your recommendations for guest speakers who are involved in some aspect of film making. If you know someone who you think would be an interesting guest, contact with your suggestions.


What is Film Club?

Screenings with Meanings

The Film Club brings together movie lovers for a monthly discussion on a selected film. The 2019-2020 theme is Art of Cinema and with each film is chosen not only for its meaning, but also in the context of a specific aspect of filmmaking (e.g., screenwriting, set decoration). It's amazing how much more you can see once you begin to appreciate the techniques that make one film stand out from the rest.

The Film Club also hosts two seasonal events: A Holiday Party, featuring a classic Christmas movie, and Oscar Night, where we review the nominated films and vote for our "best picture of the year." (Our track record for predicting the Oscar has been uncanny.)

The Film Club meets in the Grand Pavilion on the second Thursday of the month from September through May. Our discussions are led by Father David Guffey, CSC, Director, Family Theater Productions.