Film Club 2019–20
Delis Alejandro, (310) 566-1530 or
Upcoming Discussion: A new perspective brings new energy to Little Women
The Big Reasons to Watch Little Women
Thursday, June 11 at 6:30 p.m.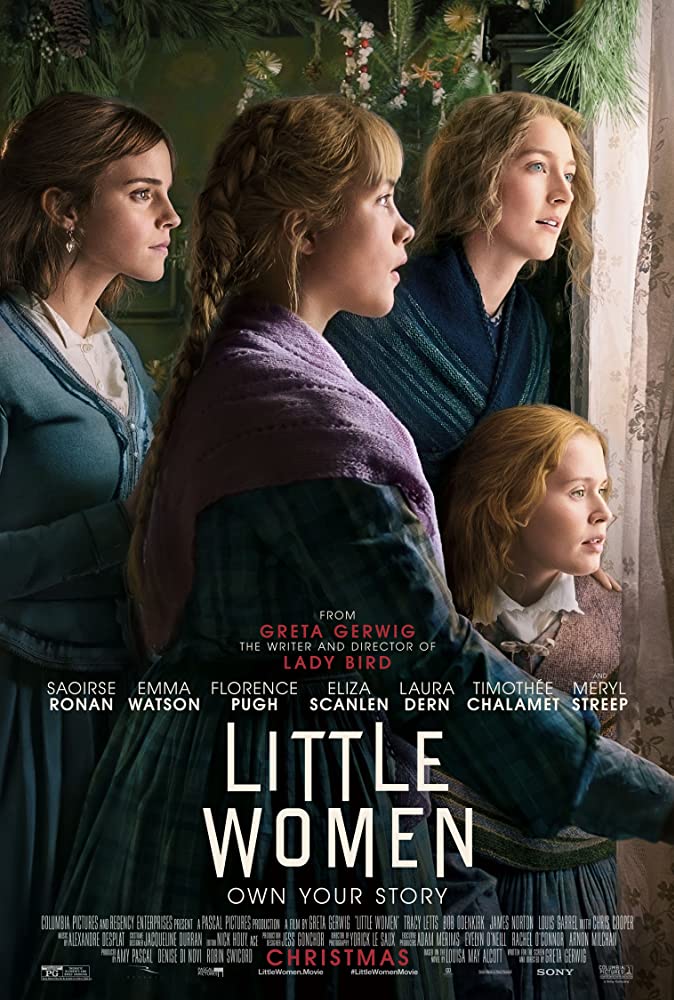 Before you think, "Oh, I've read the book…", "I've seen it on screen before...", "It's not for guys…", "Can't they come up with something new?", STOP AND DO YOURSELF A FAVOR: Watch Greta Gerwig's Little Women. Gerwig, who directed and wrote the screenplay, has infused the beloved 19th century classic with contemporary relevance and energy and it should not be missed. This beautifully acted story about sisterhood, family and the irrepressible human spirit is exactly the kind of uplifting story we need now.
Gerwig's Little Woman, released in 2019, will be the focus of our next virtual Film Club Discussion.This lovely, relevant film opened with critical acclaim and earned six Oscar nominations. The movie's atmospheric cinematography, set decoration and costuming (it won the Oscar) are worth the watch; however, they pale in comparison to the ensemble cast that includes Saorise Ronan, Emma Watson, Laura Dern, Timothée Chalamet, Meryl Streep and Chris Cooper.
Unlike previous iterations, Gerwig's Little Women sets the stage with the March sisters grown and exploring their ambitions. From here, we glimpse back to their youth and the paths that led each of them forward. It's an innovative, yet faithfu, take on Louisa May Alcott's companion novels published in 1868 and 1869.
If you haven't seen the film and want to watch it before we explore it with Father David Guffey, CSC, Director, Family Theater Productions, you can stream it on Amazon Prime, YouTube, Google Play and Vudu. For an enjoyable look behind the scenes, watch below with the director and six cast members, filmed in the actual living room of Louisa May Alcott's home. It's full of tidbits about making the film. And let's not forget the costuming! For a look at why it deserved the Oscar, Click HERE.
Wrap Up: Field of Dreams
It's true. If you build it…they will come
Over 100 people joined the Film Club's virtual get together on May 14, featuring Phil Alden Robinson, director and screenwriter of our film of the month, Field of Dreams. The conversation afforded an insider's view of how the film evolved from a novel to a major motion picture and let us in on the challenges and rewards along the way. A big thank you to Phil Robinson, our guest, Fr. David, our moderator, and all of you who helped create such a wonderful evening.
What is Film Club?

Screenings with Meanings

The Film Club brings together movie lovers for a monthly discussion on a selected film. The 2019-2020 theme is Art of Cinema and with each film is chosen not only for its meaning, but also in the context of a specific aspect of filmmaking (e.g., screenwriting, set decoration). It's amazing how much more you can see once you begin to appreciate the techniques that make one film stand out from the rest.

The Film Club also hosts two seasonal events: A Holiday Party, featuring a classic Christmas movie, and Oscar Night, where we review the nominated films and vote for our "best picture of the year." (Our track record for predicting the Oscar has been uncanny.)

The Film Club meets in the Grand Pavilion on the second Thursday of the month from September through May. Our discussions are led by Father David Guffey, CSC, Director, Family Theater Productions.

The Art of Cinema Series: 2019-2020 Season

September

History of Film

October

The Apartment

Screenwriting

November

Vertigo

Mis-en-scene

December

Christmas in Connecticut

January

City Slickers

Set Decoration

February

Oscar Night

March*

Julie & Julia

Costume Design

April*

Darkest Hour

Makeup

May*

A Man For All Seasons

Classic

*Replaced by virtual Film Club discussions of Groundhog Day (March), Rear Window (April) and Field of Dreams (May).

2018-2019 Season

September
Gravity
October
Cinema Paradiso
November
Hidden Figures
December
White Christmas
January
Stan & Ollie
February
Oscar Night
March
A Man of His Word
April
Of Gods and Men
May
The African Queen

2017-2018 Season

September
The Way
October
A Beautiful Mind
November
A Man Called Ove
December
The Bishops Wife
January
The Post
February
Oscar Night
March
Nine to Five
April
Inside Out
May
Roman Holiday