CONNECT: Fall Soups and Fellowship
Thursday, Oct. 26
6:30 p.m. – 8 p.m.
Room TBD
Is it time to get out the gourd recipes? Join us for a trio of fall soups and vote on which recipes the Green Team will make for Fridays during Lent. We will also discuss Pope Francis's new encyclical Laudate Deum and hear from special guest Mary Garbesi, who will help us tackle climate anxiety, reflect on Creation care, and help develop our personal actions plans.
LEARN: "The Letter" Movie Screening
Wednesday, October 4
6:30pm-8:30pm
Caruso A/B
In partnership with the Archdiocese Office of Life, Justice, and Peace, we will host a screening of "The Letter, A Message for Our Earth." This film builds on our pope's call to care for our planet through the experiences of four individuals from around the world whom he personally contacted. They bring perspective and solutions for the poor, the indigenous, the youth, and wildlife into a conversation with Pope Francis himself. Attend regularly or volunteer with us!
VOLUNTEER: Zero-Waste Pancake Breakfast
Sunday, September10
8:30am – 12pm
Grand Pavilion
We're taking the (in)famous Primetime Pancake Breakfast and making it zero waste! We need volunteers to help after all morning Masses: dish angels, pancake flippers, and recycling educators. Don't worry; you will be trained!
LEARN: Youth Environmental Summit: If Not Now
Sunday, September 16
9am-3pm
Grand Pavilion
Young people aren't the future; they're the now. Gen Z is becoming more influential in the decision-making space, so it's more important than ever to amplify these young voices as they grow into adult change-makers.
At St. Monica Green Team 2023 Youth Environmental Summit, IF NOT NOW, we'll explore how students can lead their school and parish environmental groups to effectively develop and champion policies that help their campuses be more environmentally aware and active.
Green Team & Gazpacho
Date: Thursday, June 29
Time: 6:30–8 p.m.
Location: On campus, Caruso A/B
As our ministry season comes to a close, the Green Team celebrates a year of hard work with a summer social: Green Team and Gazpacho. Fresh faces and seasoned veterans alike can join us for a night of food, fellowship, and fun as we wrap up this year and prepare for the upcoming one. We'll talk about how you can get involved in the next three months and help you meet like-minded Green Teamers.
Gazpacho and baked goods provided. As always, bring your own water bottle!
Celebrate Laudato Si' Week
Laudato Si' Week, May 21-28, gives us an opportunity to begin to reflect on what a Laudato Si' Action Plan could look like for our parish. Join us after Mass on May 21 to learn more and celebrate the start of Laudato Si' Week.
Laudato Si' Week Events
Stop by the Green Team table after morning masses on May 21 to get your free kitchen pails for composting organic materials (the City of LA and City of Santa Monica residents only, while supplies last.)
Come to the Composting/Recycling workshop on May 25, 6–7:00 pm. Learn what goes where in the three-bin systems (Recycling, Green Waste for Composting, and Landfill). Register here!
Come to the Action Plan kick-off meeting on May 25, 7–8:30 pm. It's time to Act. Register Here!
Follow along on Instagram this week as we feature one goal per day.
Pope Francis says, "Nature cannot be regarded as something separate from ourselves or as a mere setting in which we live." (LS 139) Our treatment of the natural world is deeply tied to poverty and other social, and ethical issues. Laudato Si reminds us that in order to live our faith we must start to hear the cries of the poor and the earth as one cry. That is the holistic spirit of Laudato Si'.
What is a Ladauto Si' action plan?
The Vatican's Dicastery for Promoting Integral Human Development has developed 7 themes/goals to provide focus areas for reflection and action. That which gets measured, gets done! It's time to hold ourselves accountable to the cries of the poor and the cries of the earth. The entire parish is encouraged to participate in the network of solutions necessary to solve this complex, ecological crisis.
The Laudato Si Action Platform provides tips and examples for families and parishes to create unique, bold plans to respond to the ecological crisis. Sample plans are available here.
Which focus area speaks to you? The St. Monica Green Team would like to hear from you!
Season of Creation 2022: Listen to the Voice of Creation
From September 1, the Day of Prayer for Creation, to October 4, the feast of St. Francis of Assisi, we celebrate the Season of Creation. During this time, we are called to reflect on the gift of God's Earth and the call to be His stewards. This year's theme is "Listen to the Voice of Creation", which urges us to hear God in nature and others, especially those most vulnerable to climate change and environmental crises. To read more about the season and movement, click here. To join our mailing list, email !
David Hines Volunteer of the Year: Elizabeth Johnstone
Congratulations to our very own Elizabeth Johnstone, winner of the David Hines Volunteer of the Year award! Your commitment to the Green Team is truly incredible.
Upcoming Events
9/29 and 10/6, 6:30pm | Film Club & Green Team: "Don't Look Up" Screening and Panel Discussion
Part 1: Join the "Screen Team" (Film Club & Green Team) on September 29 at 6:30pm for a screening of "Don't Look Up", a metaphor for the climate crisis we are currently facing. It is a love letter to scientists, changemakers, and solution seekers, and a rallying cry for global climate action. The film will be shown in the Grand Pavilion.
Part 2: Sometimes the reality of climate change can feel overwhelming but, unlike the characters in the film, we can choose how our story ends. If we choose to talk openly, listen to one another, and take action together, we can write a new ending to our story. On October 6 at 6:30pm, the Green Team will host a Zoom panel of climate experts and a discussion of the big themes of "Don't Look Up", including environmental justice, civic engagement, and hope for the future!
10/1, 8am | Season of Creation Morning Prayer
Join us for a Season of Creation morning prayer and reflection at the beach lot 7N (just south of the California Incline) on Saturday, October 1 at 8am. Bring a blanket or a chair, welcome the morning, and give thanks for creation with us.
Feast of St. Monica Beach Cleanup Success!
On August 27, the Green Team hosted a community beach cleanup to celebrate the feast of St. Monica. With over 30 parishioners in attendance and almost 30 pounds of trash collected, we can definitely call it a success! If you would like to be a part of our next cleanup in a few months, please send us an email at .
Congratulations Green Team for Winning a Creation Care Small Grant!
Green Team has been awared a grant to continue the work of their Youth Climate Summit!
Click Here to read the full article!
Green Team General Meeting
Food Waste-free Lent
Join us each week for tips, resources, and more on how to live a food waste-free Lent!
Intro to a Food Waste-Free Lent Featuring Neal Shapiro - Recording
Monday, Feb. 28 | 6:30 p.m. | Via Zoom
Launch into Lent by learning more about food waste! Watch our recorded panel with tips and information from Neal Shapiro about how to live food-waste free!
Click Here to Watch the Video!
Winter 2021
Intro to a Food Waste-Free Lent Featuring Neal Shapiro
Monday, Feb. 28 | 6:30 p.m. | Via Zoom
Launch into Lent by learning more about food waste! As we prepare for our physical and spiritual fast, join the Green Team as we dive into the City of Santa Monica's new ordinance on compost and how to reduce food waste. The panel will feature Neal Shapiro, Senior Sustainability Analyst and Zero Waste Team Supervisor at the Resource Recovery & Recycling Division for the City of Santa Monica. Our talk will kick off the Lenten Season and introduce you to our 6-week "Food Waste-Free Lent" program.
Recording Coming Soon!
Celebrate World Wetlands Day
Wednesday, Feb. 2
We celebrate World Wetlands Day to raise awareness about the Earth's beautiful wetland ecosystems. Though wetlands are critical for biodiversity, climate mitigation, freshwater availability, world economies and more, we are losing them three times faster than forests due to overdevelopment and deforestation.
Read more about the importance of the wetlands, especially our Ballona Wetlands!
Click Here to Read: Celebrate World Wetlands Day by Elizabeth Johnstone.
Friends of Ballona Wetlands Clean Up and Tour
Friday, Feb. 4 | Restoration Clean Up Day
Saturday, Feb. 5 | Tour of Ballona Wetlands | 10:00 a.m.
Celebrate World Wetlands Day by participating in a Friends of Ballona Wetlands cleanup! Friends of Ballona regularly offers volunteer opportunities to participate in creek cleanups that remove debris that would otherwise end up in the wetlands.
Fall 2021
Youth Climate Summit 2021: Our Actions, Our Earth, Our Home - Oct. 2, 2021
We are proud to report the success of our first annual Youth Climate Summit: Our Actions, Our Earth, Our Home! On Saturday, October 2, we cappedoff the Season of Creation by hosting 50 middle and high school students who were passionateabout environmental activism in their communities. We provided them with the resources to livemore sustainably and sparked meaningful conversations about what it means to be anenvironmental advocate. From the feedback wereceived, the students left the summit with plansof action and a greater understanding of theintersectionality of environmentalism and faith.
Click below to watch Chace Beech from Spectrum 1 News on the Youth Climate Summit!
Summer 2021
Celebrate: National Honeybee Day (Aug. 21)
Celebrate National Honeybee Day on it's twelfth anniversary. While the holiday has gained more popularity since its first recognition in 2009, the general consensus around the honeybee is still lukewarm despite the species' dire endangerment in America. While it may be so easy to overlook these small insects, honeybees are one of the most important insects to our society. So take some time to give back to the bees this year and make a buzz about National Honeybee Day!
Read the full article, And He Saw that it Was Good, written by Elizabeth Johnstone, CLICK HERE!
Celebrate: The Santa Monica Mountains!
Over the past decade, the city of Santa Monica has led the way in sustainable tourism, boasting eco-friendly attractions such as Heal the Bay Aquarium, Tongva Park, and our local Farmers' Market.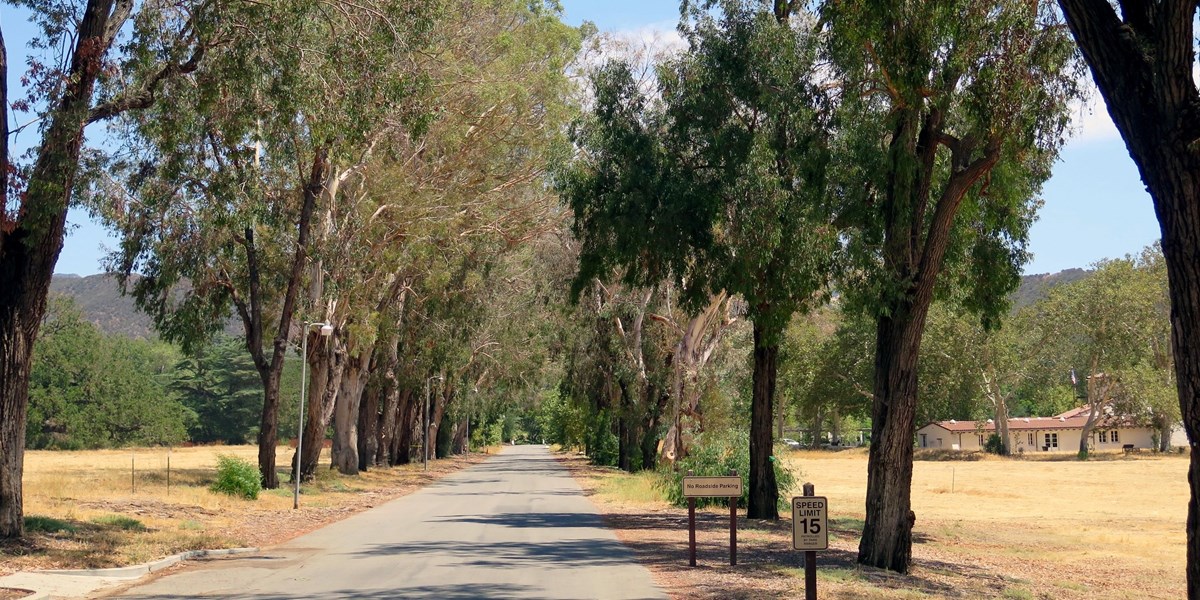 One of our most heralded spots is the Santa Monica Mountains, which pioneer sustainable mountain tourism—a scarcity in today's nature-visiting scene. As COVID restrictions lift and outdoor plans increase, consider visiting this mountain range to picnic, hike, view wildflowers, and birdwatch, among many other activities. The National Park Service writes more about what you can do in the SaMo mountains - Click here!
Celebrate: National Clean Beaches Week from July 1-7!
Even if you don't have time for a cleanup, you can still take much-needed action.
Learn how to care for our coastline in 3 easy ways in an article by Elizabeth Johnstone - Click Here!
Goals for a Greener St. Monica
St. Monica Catholic Community is certified as a Santa Monica Green Business and will renew its certification in the Summer of 2021. St. Monica is also working to reduce its carbon footprint through more sustainable purchasing and waste reduction in areas such as printing, hospitality, and energy. These steps are not only good for the planet, but they will also result in cost savings for our parish.
The Green Team is committed to work with and support St. Monica in these endeavors.
Spring 2021
Safe Beach Cleanup Success
On Saturday, Apr. 17, the Green Team hosted a successful decentralized cleanup. Members of the St. Monica community went out and cleaned our beaches, neighborhoods, and parks. Thank you to everyone who participated in our cleanup and beautified the city!
Cel ebrating 51 Years of Earth Day
From a spark that created a movement, Earth Day continues to inspire! The St. Monica Green Team celebrated Earth Day on Apr. 17 by inviting parishioners to clean their local neighborhood or beach. It has never been more important to care for our common home.
Read a history of Earth Day written by Meredith McCarthy - Click Here!
What's the deal with Laudato Si'?
Overcome by the beauty of God's creation, St. Francis of Assisi once proclaimed, "Laudato si', mi' signore", meaning "Praise be to you, my Lord". Nowadays, we often don't have moments like St. Francis. Wrapped up in the hustle of life, we forget that the Earth is truly a gift from God. In 2015, Pope Francis reminded the world of this in his second encyclical, Laudato Si': On Care for Our Common Home, inspired by St. Francis's canticle. In it, he describes the suffering our planet has undergone and how we can all take action to stop it. As the season of Easter and Earth Month begin, take a moment to pause and reflect on Pope Francis's encyclical. Read the English translation - Click here.
Rethink Spring Cleaning
The weather is changing, and summer is on the horizon. What comes to mind? Tidying up? Cleaning out your closets and drawers? Shopping? The Green Team offers you three perspectives to consider first - Click Here!
Rethink Mother's Day
What better way to celebrate Mother's Day than to honor our mothers and love our Mother Earth! Read some tips to keep your Mother's Day environmentally friendly by Meredith McCarthy - Click Here!
Catholic Conversations: The Spirituality of Laudato Si'
On Thursday, May 20, the Green Team hosted Catholic Conversations with Fr. Emmet Farrell and Patricia Grace from the Archdiocese of San Diego. They gave a beautiful presentation on the spirituality of Pope Francis' encyclical, Laudato Si': on Care for Our Common Home.
For the last 4 years Fr. Emmet has been the director of Creation Care ministry for the Diocese of San Diego, leading a team of fellow volunteers to promote and educate about Pope Francis's 2016 encyclical. Patricia Grace is a lawyer, master's level social worker, and secular Franciscan with a long personal and professional history of advocacy for the poor and marginalized, yet she holds that her credentials for presenting this workshop are the proverbial calluses on her knees.
Recording of Catholic Conversations: The Spirituality of Laudato Si' - Click Here to Watch!
Winter 2021
Rethink Lent
Lent invites us to remember the 40 days that Jesus spent fasting in the desert as we reflect, repent, fast, and listen to God. In the spirit of Pope Francis's invitation this Lent, let's commit to overcome our indifference to the climate change crisis and its victims. Let's pray and fast for a renewal of our relationship with all of God's creation and with our brothers and sisters who live in poverty and are already suffering the impacts of climate change.
What can we do besides limiting meals and consumption? Pray. Here are various ways to pray for Creation:
Start the day putting ourselves in God's presence and reflecting on the spirit of Lent with this prayer adapted from the Divine Office. "Lord, look upon us and hear our prayer. By the penance and good works you inspire, help us to discipline our appetites and to be renewed in spirit. So that we may be better stewards of creation, help us to live simply even when our desires are great. And help us to love greatly, even when we are not loved. Grant this through our Lord, Jesus Christ, your son, who lives and reigns with you and the Holy Spirit, one God, for ever and ever."
Throughout the day, pray the Rosary, the Divine Mercy Chaplet, or the Divine Office.
Read Scripture, especially those passages referring to Creation Stewardship and Environmental Justice.
Read thoughtfully about creation stewardship - Click here to get started.
Add these intentions to your daily prayers:
For an urgent solution to the climate change crisis.
For the grace to grow in virtue, which helps us be better stewards of creation.
For easing the suffering of the poor and those affected by disease and severe weather.
For the Church, that it may use its prophetic voice to help solve the environmental problems we face.