"So they are no longer two, but one flesh. Therefore what God has joined together, let no one separate."
Matthew 19:6
Welcome to First 5 Ministry at St. Monica Catholic Church. The First 5 Ministry is a community of couples in their first 5 years of marriage.
Our mission is to help build the foundation for lifelong, life-giving marriages. By focusing on supporting couples in their first five years of marriage with the tools they need to build spiritually fulfilling marriages, we hope to strengthen all marriages across the St. Monica community and beyond. Ultimately, our vision is to help couples help each other get to heaven.
Through First 5, you and your spouse will be able to build on the lessons you learned during marriage preparation and share in the celebrations of your marriage. The first 5 years of marriage are full of new adventures and joyful times, but they can also be challenging in many ways we do not expect. We want to serve you and your spouse in this ministry to build community, share experiences, and celebrate God's love for all of us.
To strengthen the foundation of your marriage, the First 5 Ministry has three core areas of focus: building fellowship with other couples, offering marriage formation, and facilitating spiritual growth. We offer this through a variety of activities including social events, speaker presentations, spiritual activities, and community service.
Please email us at with any questions.
About us:
St. Monica is a community blessed to prepare 150-200 couples for marriage every year. Our goal isn't just to get couples married but to help them have great marriages. To that end, we saw the importance of continuing to help couples build upon the foundation they've created up to their wedding day.
The First 5 ministry was originally formed in 2018. While COVID kept us away for a while, the ministry is excited to re-launch in January 2023. A team of young married couples and a professional coordinator leads us. Our meetings and events are actively being planned for 2023, and we are excited to hear more about how we can best serve your marriage. Here are some things to think about as you get connected with First 5:
How could this ministry benefit us in our own marriage?
What are our needs in our first five years of marriage?
How can we best serve other couples through this ministry?
Upcoming Events:
October: Navigating Finances and Marriage
Sunday, October 15th, 2023 7:00-9:00pm
St. Monica Grand Pavillion
Mark your calendars for our October First 5 event
Finances are important as an individual, but they can be daunting as a newly married couple. How do you go about combining your finances? And how do you start building toward your future together?
We'll tackle all this and more. Join us!
Past Events:
June: Holy Hour Happy Hour
Saturday, May 20th, 2023 7:30-11:30am
St. Monca Church
The First5 team attened "First Friday" adoration and then went to a local bar for drinks and food afterward.
May: Service Event and Brunch
Saturday, May 20th, 2023 7:30-11:30am
St. Robert's Center
April: Movie Night
Thursday, April 27, 2023 7-9pm
St. Monica Grand Pavillion
First5 hosted a marriage-themed movie night in the pavillion (complete with blankets, PJs, popcorn, and snacks!)

March: Stations of the Cross
Friday, March 24, 2023, at 6:30pm
Church and Grand Pavilion, St. Monica

March: Marriage Madness! Event
Sunday, March 5, 2023, following 5:30 p.m. Mass.
Grand Pavilion, St. Monica
We invited three couples to a panel to discuss conflict everything from communication to in-laws to finances, and Q&A.
February: Event
Saturday, February 11th and Sunday, February 12, 2023
Church and Grand Patio, St. Monica
During and after Masses the weekend of Feb 11/12, we celebrated World Marriage Day with a vow renewal, a special marriage blessing for all couples, and coffee & donuts with the First 5 Ministry team.
January: Launch Event
Sunday, January 29, 2023, following 5:30 p.m. Mass–8:30 p.m.
Grand Pavilion, St. Monica
Learned about the First 5 Ministry
Introduced the leadership team and history
Met other young couples in our community
Discussed our marriage vision for 2023
Meet the team:
Dr. Michael DiPaolo (Facilitator)
Dr. D is a clinical psychologist and Imago Relationship Therapist in private practice in West Los Angeles. A proud graduate of Notre Dame, Dr. D has helped prepare over 1500 couples for marriage in the Archdiocese of Los Angeles. Perhaps most importantly, Dr. D met his wife, Jennie, in young adult ministry at St. Monica. They have been married since 1999 and have three wonderful children and a hyperactive dog.
Flip Sanchez & Debora Milioni (Advisors)
Gabe & Jenny Haggard
Gabe (a LA native) and Jenny (a Midwesterner) met while volunteering at St. Monica. They got engaged in July 2020, and Monsignor Torgerson married them in October 2021 in Jenny's hometown of Indianapolis, IN. Gabe and Jenny happily enjoy married life and are thrilled to be a part of the First 5 team. When they're not working or volunteering, they enjoy traveling, spending time outside, hosting parties, and trying the latest new restaurants.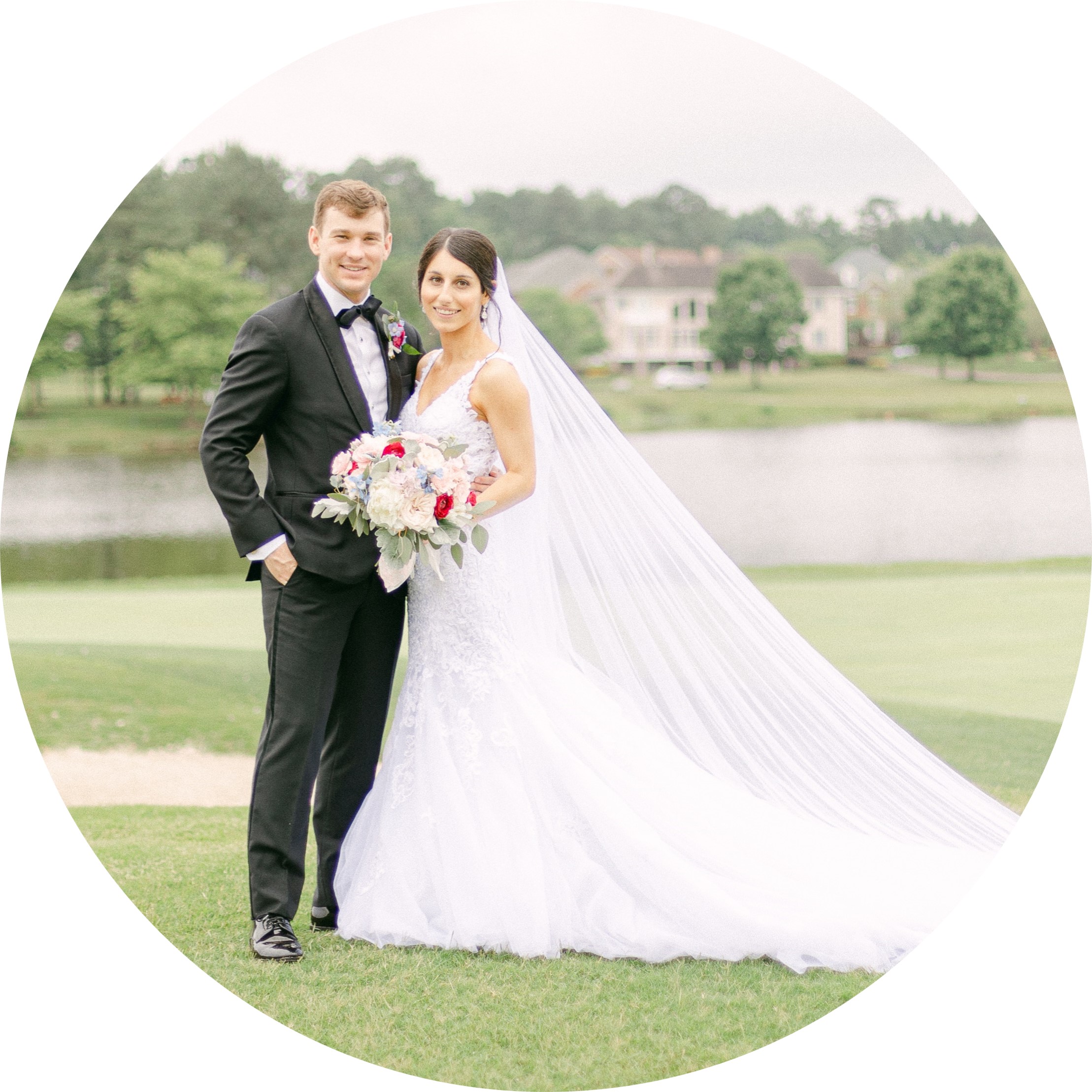 Keith Moynihan & Kristi Wisniewski Moynihan
Keith and Kristi met during Freshman year at the University of Alabama. After a year and a half of friendship, Kristi agreed to a first date. Ten years of dating/engagement and eight states later, they were finally married in June 2021. They enjoy cooking and cheering on the Crimson Tide football team together.
Gabriel & Katie Sayegh
Katie & Gabriel met while living and working in Detroit in August of 2016 and bonded over Disney, music, and their love of adventures. They quickly uncovered they would enjoy living closer to their families in LA, so they made that happen a year later. They got engaged in May 2019 on the beach in Santa Monica and were married at St. Monica's by Msgr Torgerson in August of 2021. They love traveling together, volunteering at St. Monica's, and trying new food and wine anywhere they can.
Clayton & Emily Smith
Clayton and Emily first met in Washington, DC, in 2017. They moved to Los Angeles in 2019, adopted a German Shepherd-Husky mix, and began working at UCLA. They married at St. Monica in July 2021 and are excited to help lead this ministry. For fun, Emily and Clayton love camping, trying new foods, and cheering on the Fighting Irish.
Megan & Sayrge Braccio
Sayrge and Meg met in 2017 in Nashville while pursuing graduate degrees at Vanderbilt, quickly bonding over a mutual love of coffee and being the youngest child. A very fortunate turn of events brought them back to Los Angeles and to Saint Monica's, where Meg's sister previously married. Sayrge popped the question on a beach walk in Carmel and they married at a nearby hotel in June 2022. They enjoy crosswords, reality dating shows, cooking, gummy candy and pickleball.
FAQs:
Is there an age restriction to join First 5?

No, we welcome couples of all ages!

Do we have to have gotten married at St. Monica Catholic Church?

No, we welcome any couples in their first 5 years of marriage to join the ministry.

Who can we contact with questions?
Can I bring my children to the First 5 events?

Yes! We will have babysitting available for you during many of our events. If you will need childcare, advanced registration is required. Please plan to bring $10 per child.

Will we always meet at the same time/ place?

We are actively planning events for 2023. Right now, we are planning to have an event once a month, but the time and date are likely to be different for each month. However, we are open to feedback and would love to hear what times/dates work best for you.
Sign up for our emails:
Enter your contact information below to stay up to date on all future events!