Vacation Bible School: June 20-24
Monumental: Celebrating God's Greatness
Vacation Bible School: Monumental 2022
Jun. 20-24 | 9:00 a.m.-12:00 p.m.
All children ages 3–grade 5 are invited!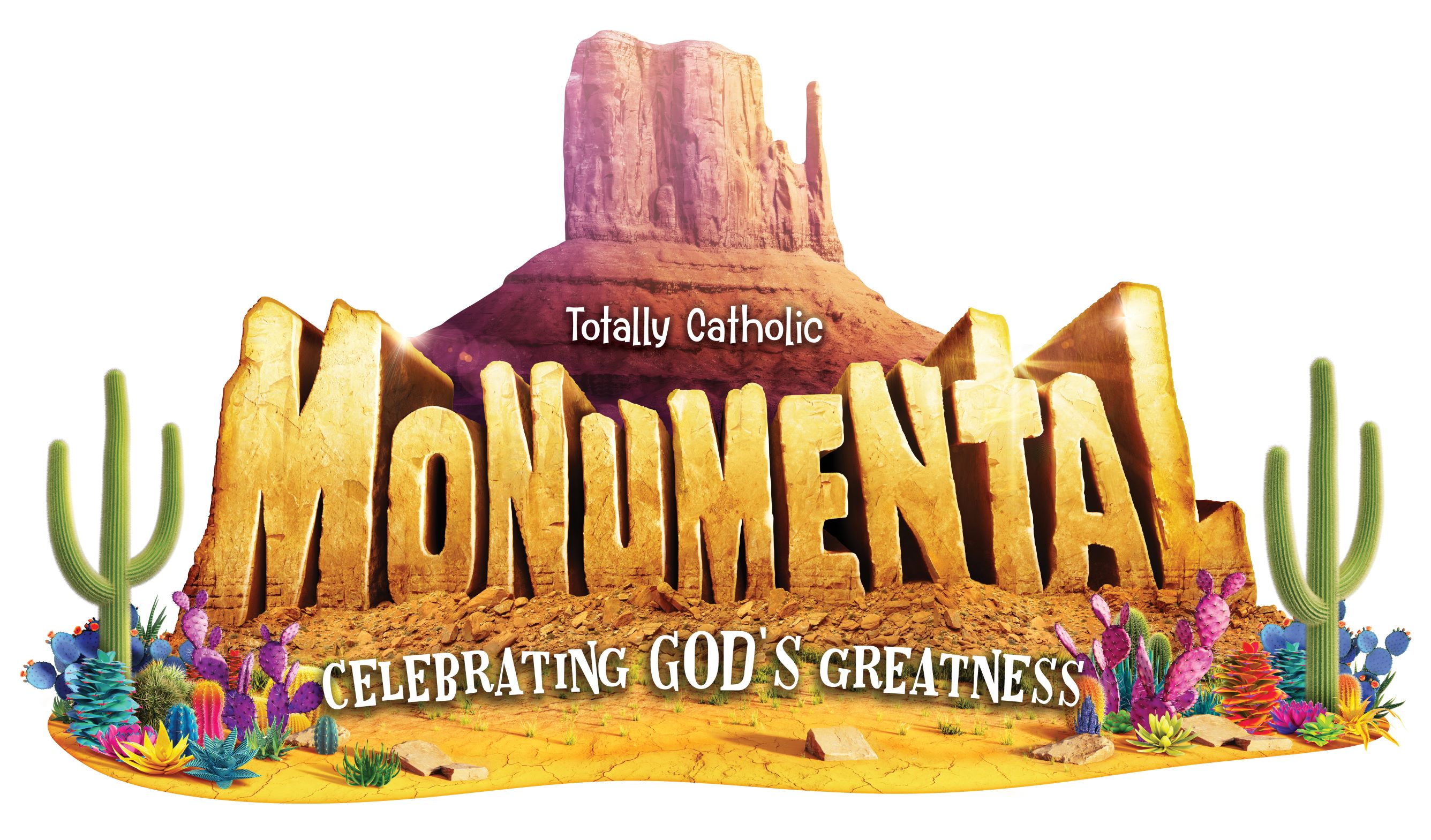 Go off-road for a Monumental adventure through the colorful canyons and sunbaked trails of the Southwest. By exploring God's awesomeness, kids form a rock-solid faith for the roads ahead! On this Catholic faith-filled adventure, kids discover that trusting Jesus pulls them through life's ups and downs. Each day at Monumental VBS, kids trek through fun and engaging rotations that reinforce relevant Bible Points and immerse kids in new adventures. They will sing, dance, experience living Bible stories firsthand, meet a new saint each day, play high-energy games, make new friends, and explore Bible points with hands-on crafts! One of the best parts about Monumental VBS is the award-winning music! Each family will bring home a digital download of fun songs that your kids will want to listen to again and again—sure to become a new family fave! So sign up and join us for this Monumental Adventure!
Scroll Down for Testimonials, Volunteer Sign-up and Scholarship information!
A Monumental Summer experience!

Release forms must be received before registration can be confirmed.
Download, complete, and email form to .

Click Here to Download the Release Forms

Volunteers, we need you!
We're always looking for great people to join us! We need students entering grade 6 through grade 12, as well as adults to work with us.
Service hours can be earned! If you'd like to volunteer, please fill out this form and you will be contacted shortly!
Description of the Volunteer Positions:
Set-Up Crew: decorating and helping the day before the event, Saturday, Jun. 19 - 10:00 a.m. to 12:00 p.m.


Teachers: teaching at one of the stations. All lesson plans and materials are provided.


Crew Leaders: walks groups to stations and works with them through each station. *Kids 6-12 grade encouraged to apply!


Photographers: documenting the week, assembles a slideshow at the end of the week - instructions and template provided.


Clean-Up & Breakdown Crew: We need as many people as possible to help us clean up on Friday, Jun. 24!
---

Scholarships Available
Our children and families are important to us - no one should be excluded due to their families' inability to pay.
Scholarships and partial payments are available.
We ask that you contact Suzette Sornborger at or (310) 566-1541 to inquire about our scholarship and partial payment options.
---

Testimonials
What the Kids are saying about Past VBS adventures!
I like it! It's really fun! - Jason
VBS is so much fun! I love the games outside and the snacks and the silly skits! The music is so fun and we get to dance! -Ellie
I enjoyed participating in VBS, and I loved coming back to volunteer when I got older. - Nathan
My favorite part is the living Bible stories! One year we got to walk on water with our bare feet! And we get to bring some really cool stuff home like the Bible Buddies! VBS is the best! -Lily
Our Parents Agree - VBS is the Highlight of their Summer!
I value VBS at St. Monica because my sons participate in meaningful activities which foster their faith formation. They look up to the high school and college volunteers who serve as role models living their faith out loud. Plus witnessing children of all ages singing worship songs together lifts my own faith to another level. - Beth Palumbos
Every year our family looks forward to Vacation Bible School! Our 4 daughters have been participating in VBS since they were school age and every summer they get so excited to know the theme and when it starts! Our 2 oldest are now volunteers and crew leads and love the responsibility and working with the younger kids. We enjoy the week so much that my husband and I started volunteering as well so we could join in on the fun! The music is amazing and we still sing the songs in the car from previous years in VBS! We highly recommend the program! It is so much fun! -Scott and Jennifer Clingingsmith