Jesus: The Good Shepherd
In this Sunday's Gospel, we hear Jesus speak of the good shepherd who knows his sheep and lays down his life for them. This clearly is a reference to what Jesus, The Great Shepherd, did for us. It is the call of all shepherds as they care for their flock.
A vocation to the priesthood or religious life is the Lord's call to serve the Church. Vocations to the priesthood are a focus of this Sunday's liturgical celebrations since the scriptures tell the story of Jesus, The Good Shepherd. The Good shepherd lays down his life for his friends --- his community. St Monica has been blessed over the past several years to have nurtured a number of men who have entered the priesthood and religious life. Fr. Gregorio, Fr. John, Fr. Tim are all priests of the Archdiocese of Los Angeles; Patrick Augustin has returned to Washington, D.C. to study in his home archdiocese, while David Portorreal, recently ordained a transitional deacon, returned to Florida to complete his studies closer to his aging parents.
Today, I'd like to highlight the vocation story of Shane Liesegang, a man who spent time as a St. Monica parishioner and now is in formation to become a Jesuit priest.
Shane Liesegang SJ was a successful video game developer when he moved back to Los Angeles to continue his career, but got more than he bargained for when he decided to get involved at St. Monica. Through parish retreats, YMA, and the weekly Vespers group, he started to realize how fulfilling it was to engage with people about their faith. He had learned about the Jesuits in response to Pope Francis's election, and was moved by their devotion to social justice and service on the margins, as well as their imaginative spirituality. After a period of discernment, he began his Jesuit formation in 2015. Recently he finished his first cycle of studies and moved to Beirut, Lebanon to work for the regional office of the Jesuit Refugee Service for a few years, covering the Middle East and North Africa. It's challenging work, especially with the ongoing political and social crises in Lebanon, but he's grateful for the opportunity to serve God's people and try to improve things for those most in need of love.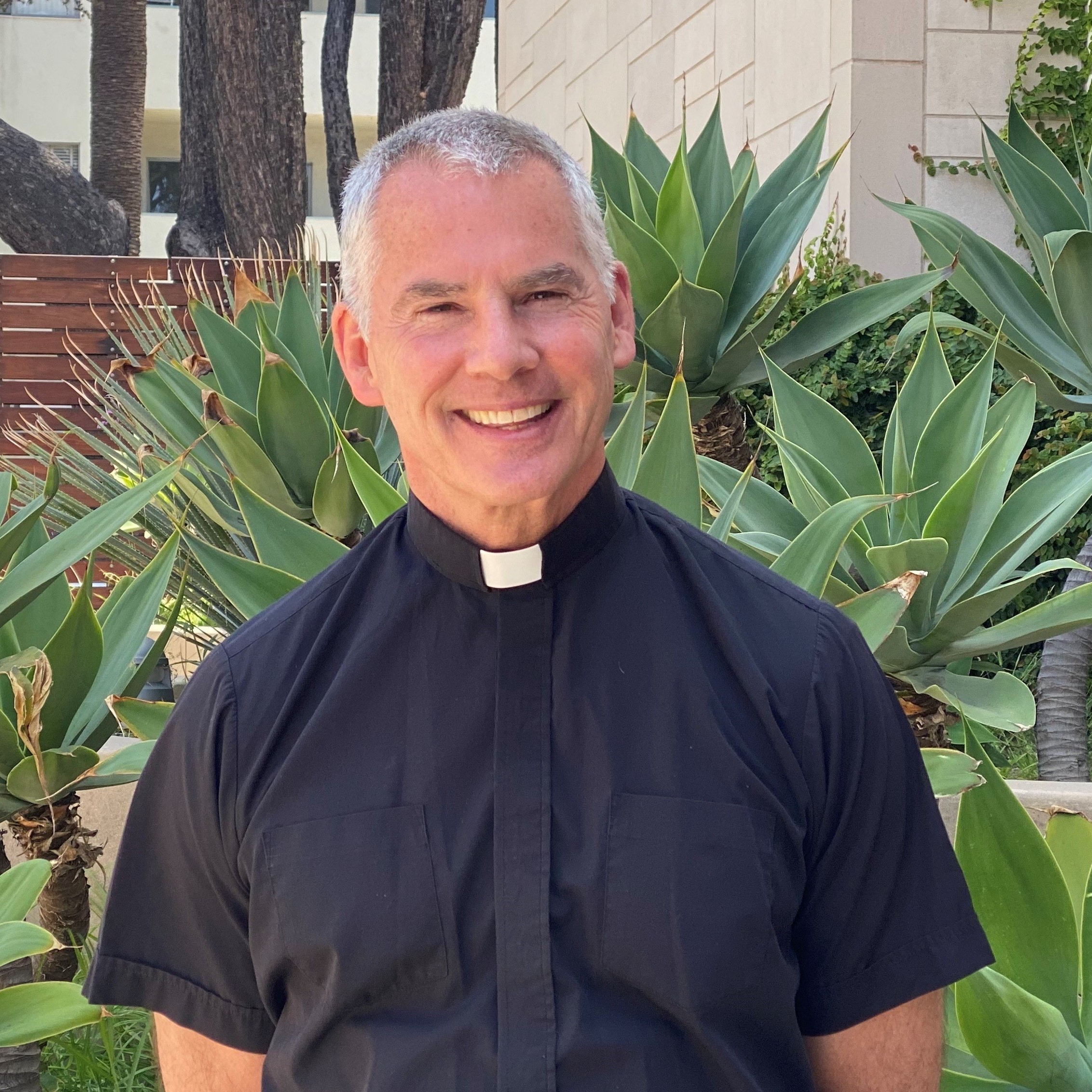 Closer to home, I'd like to highlight, and invite your prayer for, one of our own shepherds, Fr. Dave Ayotte, who has been with us less than a year, and what a year it's been, yes? He came in the middle of the pandemic, and even now many have never met him in person. Yet he casts the shadow of a shepherd, true to the image of the Good Shepherd, laying down his life for St. Monica's 'sheep.' On Good Friday, his homily (click on the link starting at 45:00) at the noon Liturgy was remarkably moving.
As a shepherd, one never knows where the journey will lead. Fr. Dave has invited us to journey with him in a unique way as he and the medical team working with him confront the cancer that's invaded his body and taken over his life. He has opened to us the challenges and the ups and downs of treatment, and this helps us, those he pastors, to understand how to embrace the Cross, how to let Christ the Great Shepherd take our hand as we walk with him.
Fr. Dave has shared intimately with us, reaching out. Let us take his hand, let us walk with him and support him.
Let this song of another David be our prayer for him and all shepherds today.
Psalm 23: A Psalm of David
The LORD is my shepherd;
there is nothing I lack.
In green pastures he makes me lie down;
to still waters he leads me; he restores my soul.
He guides me along right paths for the sake of his name.
Even though I walk through the valley of the shadow of death,
I will fear no evil, for you are with me; your rod and your staff comfort me.
You set a table before me in front of my enemies;
You anoint my head with oil;
my cup overflows.
Indeed, goodness and mercy will pursue me all the days of my life;
I will dwell in the house of the LORD for endless days.
-Dale Sieverding, Director of Worship
Highlights
Beginning the weekend of May 1, Outdoors Mass times will change to 4:30 p.m.
Early morning prayer - 7:15 is too early! But, It's worth it! Our Morning Prayer group begins each day praying as Jesus would have prayed in his day. In the Easter Season, our prayer opens with praise for the gift of the Resurrection: The Lord is Risen, Alleluia! Click Here to register!
Everyone loves doughnuts! Worship Fellowship offers an amazing set of opportunities to gather safely, by way of Zoom, which you can easily put on your computer, smart phone or tablet and join in one of our fellowship groups or prayer after the Liturgies:

Coffee & Doughnuts
Sundays, following the 9:30 a.m. Mass
Do you miss seeing friends, neighbors, fellow parishioners? Dale Sieverding and Christine Gerety host virtually on the "Duval Patio" for post-Mass conversation!

Sunday Nite Live


Sundays, following the 5:30 p.m. Mass



Virtual Holy Grounds


Weekdays + Saturdays, following the 12:10 p.m. Mass.


Members of our community will pray the Rosary, dedicated for the intercession of Mary, The Mother of God, for peace, unity, reverence and care for the common good.
Calendar
Take some time with this tried and true way to reflect on Words of Sacred Scripture

Read Meditate Pray Contemplate

Lectio Divina is a prayerful reflection on a Scripture passage from any part of the Bible. Our process proposes reflecting on the Gospel of this coming Sunday, in order to prepare your mind, heart and soul to hear Christ speaking to you in the Liturgical proclamation of Scripture by Lector, Psalmist, Priest.

Lectio Divina this week with Jesus, The Good Shepherd. This image, strong in the scriptures and inspired by Psalm 23, sees the Lord as shepherd, so concerned for his sheep that he lays down his life for them. The resource for the exercise: Click Here to Access!

Gospel Prayer

Pray every day John 10: 11-18

I think, Good Shepherd,

I am one of your other sheep

from your other fold.

I come from

a tradition entirely different from yours.

I don't have your inheritance.

Yet you have lavished it

based not on merit,

nor birth, nor right.

You imparted it freely

from intimacy with your God.

This intimacy now extends to me, embraces me,

enfolds me, makes me like you.

You used your power:

Taking up your life, laying down your life

to take it up again.

Enacting God's command,

obedient in love, for love, for unity.

Seeing danger – the wolf approaching –

you stayed, you remained,

you faced fear, you defeated death.

From love you came, to love you returned.

For love you gave, for love you saved.

Formerly far from you,

I'm now with you, with God, with others.

Thank you, Jesus,

Good Shepherd.

Amen.

From time to time, people will ask what I am reading—what gives me inspiration,
fills me with the presence of God, guides my Camino. The following are a few books
that I am currently reading or using in ministry.

Learning to Pray: A Guide for Everyone by Rev James Martin, SJ: A how to book on prayer. How to get started, how to spend time with God, how to listen to God's voice. Fr. Martin uses his articulate writing style and incisive sense of the human person to help everyone learn how to pray. It is available on Amazon or on Audible.

Let us Dream: The Path to a Better Future, a book of reflections recently published by Pope Francis. This is a way to see the path through the pandemic, and how to grow from this journey. In three short chapters, A Time to See, A time to Choose, A time to Act, the Holy Father reflects and challenges us to think about how this pandemic crisis will change us. This is the book you have heard our priests mention the past few weeks in their homilies, and we recommend it as a good read. Available on Amazon or at Holy Grounds.

New American Bible, Revised Edition This translation of the Bible is used at the Liturgy.

It would be good investment in your faith development. Use it when your family or household reads the Bible together, and also for for your own study.

Available on Amazon in paperback, hardcover and leather bound editions.

The Word on Fire Bible: The Gospels: This edition of the Bible is being published in several volumes by the Bishop Robert Barron's organization, The Word On Fire. The Translation is the Revised Standard Version – Catholic edition. The volume with the Four Gospels is the first to be published. It includes artwork illustrating Scriptural stories in all mediums: painting, stained glass, manuscript illuminations and more. It includes easy-to-read background stories of the Gospels and Jesus' life, and is a unique entry into understanding more deeply the person and story of Jesus as told by the four evangelists.

Available through Amazon or directly from www.wordonfire.org

The Confessions of St. Augustine – I would be remiss if I didn't offer you for your reading enjoyment, or re-reading if you've already read, the Confessions. St. Augustine's self-indulgent Spiritual Auto-biography, which has inspired Christians who desire a deeper relationship with Christ to read and study the Confessions. This could be your next pandemic project!

Looking at monastic insights we might gain and learn from as a result of pandemic isolation:
https://churchlifejournal.nd.edu/articles/from-loneliness-to-silent-freedom/

What is Lectio Divina? - A Short video by Fr. James Martin, SJ

Praying Together, Praying Apart: At Home Prayers for Times of Healing, Illness and Death. (Liturgical Press)

A resource put together as a gift to our Church for moments of prayer toward the end of life, especially useful for us as we accompany a loved one who may be in hospice, or near death when a priest cannot come to celebrate the Anointing of the sick.

Part 1: Prayers of Comfort, Hope and Healing
Part 2: Lucernarium for Healing
Part 3: Rosary For Healing with Luke the Evangelist
Part 3: At-Home Service of Prayer when someone has Died

This resource was prepared and sent to us for use by The Liturgical Press. It was prepared for use during this pandemic for times when a priest cannot come for anointing of the sick, or at the time of death, if a funeral is not able to be celebrated. I have sent it to a number of families, friends and neighbors upon hearing of illness or death, and it has been well received and offers a variety of prayer and home liturgy options for families and groups of friends. Check it out, share it if you know of a family or friend who could use it.

Sharing the Word of God at Home is a resource offered to give families ideas for reading the Bible together, listening to God's Word at home in a family, household, or single person at home setting.

A Mother's Reflection on Liturgy: Word, Sign, Symbol, Ritual was written a few years back, but is a great short two-page reflection on sharing the liturgy with young families and understanding the pieces of the liturgy.