Many people do not know that the Cathedral of Our Lady of the Angels has art that envelopes as you worship in that House of the Lord. The tapestries surrounding the worshippers are images of the saints, from both the ancient world and our modern one. St Monica is represented, as is Saint Mother Teresa of Calcutta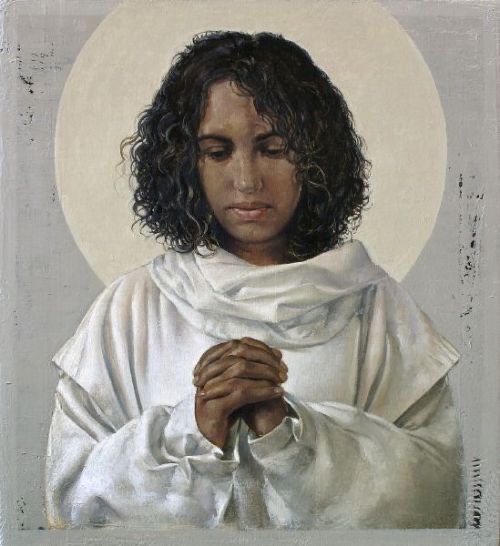 .
It's like a visit to some parts of Italy, where you'll be convinced that people on the street could have walked right out of a painting by Raphael, or Caravaggio.
Artists use models and study images to "get it right" in the final version of their artistic representation.
In using the faces of Ojai and its surrounds, John Nava points to a theological tenant of the Solemnity of All Saints. It's that WE, here and now, WE, are called to be saints. WE are to embody the beatitudes of Jesus that adorn our liturgy with powerful words this Sunday.
All are called to sanctity, and it exists right next to you. Nava's image of Monica, who was from North Africa, is a mulatto woman, and this is characteristic of his work. He looks to the origins of the saint, chooses a model that reflects those origins and gives us a new understanding of the saint. (Here could you place the image of St. Monica from John Nava that we purchased?)
As we approach the decision of a lifetime and prepare to vote, it is on us to reflect on the Beatitudes and to vote according to how Christ speaks to and leads each of us.
You and I are surrounded by saints of God. While now there is a formal process of canonization, the first millennium saw saints "proclaimed" and venerated as holy by and for people from the grassroots. A few years ago, a book entitled The Millionaire Next Door suggested that you may not recognize that a neighbor, living an ordinary life, could be a millionaire. The celebrations of our Month of Remembrance acknowledge that most likely, when we come to Liturgy or to an event at St. Monica, we are sitting next to saints of God!
The overarching concept of the Cathedral tapestries, and how they hang in that great work of contemporary architecture, is that the gathered assembly is surrounded by a great cloud of witnesses. It's the saints of God in the heavenlies worshipping with the saints of God - you and me - on earth.
These saints are present, they come to assist us, to affirm us, on our pilgrimage to our God.
we implore your grace, so that, coming to perfect holiness in the fullness of your love,
we may pass from this pilgrim table to the banquet of our heavenly homeland.
Through Christ our Lord. Amen.
Take some time with this tried and true way to reflect on Words of Sacred Scripture

Read Meditate Pray Contemplate

Lectio Divina can be followed from this beautiful USCCB resource.

Gospel Prayer

Lord Jesus,

What treasures you give!

If I will be humble, I receive heaven's Kingdom

If I will bear grief, I receive solace

If I am not grasping, I inherit a home

If my physical longings are for your ways, they will be fulfilled

If my responses are kind and generous, I will receive the same

Lord Jesus,

What abundance you offer!

If I allow my desires to be purified, I will recognize you

If I forsake violence, I will be part of your family

If I am scorned and rejected for wanting to be like you,

I receive a reward, heaven's Kingdom

If I am judged wrongly, treated badly, lied about, hurt, even killed,

good can come, because it's your goodness that's being condemned.

Lord Jesus,

You reveal and release blessings from God:

treasures, abundance, joy, satisfaction!

Help me do the trade, giving up what I grasp so I can receive what you give.

Amen.

Tips:

For an attempt at True Spiritual Growth: work through this process of Lectio Divina every day or several days this week. Pray the Gospel Prayer in conclusion each day.

Each time you listen to, study, pray with the Scriptures – it is a new experience, and you are hearing the Word of God anew – because TODAY, you are not the same person as you were LAST WEEK – because of your encounter with the moments you have lived in the past week.

Liturgy: Cutting A New River provided an opportunity to come together during this time of separation and distancing and reflect on our experiences as liturgical ministers. Dr. Layla Karst, Professor of Liturgy at Loyola Marymount University, compared our lives to rafting down a river; sometimes peacefully calm while other times the adrenaline and fear of rushing through whitewater rapids consumes us. The tumult of the pandemic has flipped our raft upside down, throwing us into exile. We hug onto our lifejackets, our various means of spiritual and social survival, and our entire perspective shifts.

We are reminded that God is very much present with us and He is working to bring us into a new creation. As the doors of the church have been closed these many months, we have been challenged to let go of former ways of doing and seeing things. As God cuts a new river for us to travel, we are called to worship and give thanks as we begin anew in this time of lockdown and sheltering in place.

As was read from the Book of Tobit, "If you turn to him with all your heart and with all your soul to do what is true before him, then he will turn to you and will no longer hide his face from you."

Why are face coverings/face masks required to be worn in Church?

Why can't we sing at the Mass in Church?

There is solid evidence that the COVID 19 virus is airborne and is expelled from the mouths of people who are contagious whether or not the person has symptoms. In singing and public speaking, it is known from those who study this, that we expel and aerosolize micro-droplets that can hang in the air for a very long time (3 hours or more). It has been determined that singing in public, speaking loudly in public, yelling (like at a sports event), and other activity is a fertile ground for super-spreading of the virus.

Therefore, to protect the health and safety of our community – priests, parishioners, volunteers and staff, the County guidelines allowed churches to reopen provided that singing by the congregation be stopped for the time being. We will one day sing again with full voice in the church, and I have spent more than 30 years working as a liturgist and pastoral musician. I want people to sing, it has been my vocation, but now, until there is a vaccine or the virus passes, we cannot sing in public.

The Prayer of the Church

The Church offers many different types of prayer: liturgical prayer, devotional prayer, meditative prayer, personal piety devotions.

The Liturgy of the Hours is one of the official Liturgies of the Church and consists in Morning Prayer and Evening Prayer daily – centered on praying the Psalms, hearing a short word of another Scripture passage, some intercessions for the needs of the Church, our local needs, and needs of the world, the Canticle of Mary (The Magnificat), The Lord's Prayer and conclusion. What is the benefit?

Sometimes when we don't have the words to pray, or can't find the words we need to express to God our sorrow, rage, anger, love, thanks, joy, sadness, overwhelming gratitude, love or love lost … the Psalms can help us find the visceral language with which we can be Honest To God: series of lectures last year on the Psalms provided our community with more background on their composition, their purpose, their use throughout the Church's history.

The early Christian Church prayed the Psalms, as they prayed the prayers that Jesus prayed and knew well as a good Jew. On the Cross, the words of Psalm 22 were on his lips, My God, My God, why have you forsaken me. In the hearts and minds of the early Christians, these were the songs of Israel that they knew and continued to pray. And in another place, Jesus is the stone which the builders rejected, now become the cornerstone/keystone.

The praying of the Psalms – singing them -- developed into a ritual of prayer, morning, evening and used at the Eucharistic celebrations and thus became the backbone of the Church's Liturgical Prayer.

The Liturgical Press as been gracious to offer the resource Give Us This Day to the Church during this pandemic as a free, downloadable resource. It is also available on an app for your phone, so you could have it available wherever you are and have time to pray. Have a look today, and let this become part of YOUR ritual of daily prayer, when you do not have the words to speak.

Spiritual Communion

Communion with God is our ultimate goal in life – with prayer, celebration of the Liturgy, study and meditation on Scripture, retreats and spiritual growth opportunities. We believe that Christ is present in bread and wine, made Body and Blood of Christ through the Eucharistic Prayer of the Community, lead by the presider (priest or bishop) acting in persona Christi (in the person of Christ). We believe that our Communion with God through the Eucharist is so powerful and intimate that we believe we consume the Body and Blood of Christ by eating and drinking as the Lord commanded.

During this time when we are unable to receive the Eucharist physically, Pope Francis invites us to make a Spiritual Communion – that is to invite Christ in to our hearts, and ask that Christ come close to us, and that we come close to Christ. We do this in moments of prayer following the Communion Rite at Mass, with the following prayer:

My Jesus, I believe that you are present in the most Blessed Sacrament. I love You above all things and I desire to receive You into my soul. Since I cannot now receive You sacramentally, come at least spiritually into my heart. I embrace You as if You were already there, and unite myself wholly to You. Never permit me to be separated from You. Amen.

We also join ourselves to the Body of Christ, and Pope Francis invites us specifically to join ourselves with the Body of Christ suffering the most from the Coronavirus epidemic – those afflicted, those who have lost their lives, the doctors, nurses and entire medical community caring for patients. St. Paul writes: When one member of the Body of Christ suffers, the entire Body suffers. We are one Body, one Spirit in Christ.

Additional Resources

Here are some resources to understand better the concept of Spiritual Communion and the importance of inviting Christ into your heart and soul.

Prayer to End Racial Prejudice

St. Monica has responded to the problem of continuing racial prejudice and brutal treatment and killings and violence against our brothers and sisters in the black community in a number of ways. The prayer below was sent us by the Archdiocese of Los Angeles, and definitely the power of prayer to bring us together by our common belief in Jesus. A recent webinar that several of participated in from Georgetown University with Archbishop Wilton Gregory, Archbishop of Washington on the presentation. He proposes that racism is a virus, as insidious as the Coronavirus, and as destructive that has lived for too long in this country. With this prayer, we pray for unity because we are better together.

Prayer for When We Cannot Receive Communion - by Diana Macalintal

https://liturgy.life/wp-content/uploads/2020/06/Prayer-when-one-cannot-receive-communion-eng.pdf

Pope Francis on Spiritual Communion:

A more detailed explanation of Spiritual Communion:

https://angelusnews.com/faith/the-secret-to-understanding-spiritual-communion-in-a-time-of-video-masses/

Urbi Et Orbi:

https://stmonica.net/church-announcements/885-pope-grants-extraordinary-blessing

The blessing offered to us by Pope Francis a few weeks ago, is the Urbi et orbi blessing to the City of Rome and to the World offered all of us listening the Plenary Indulgence.

From time to time, people will ask what I am reading—what gives me inspiration,
fills me with the presence of God, guides my Camino. The following are a few books
that I am currently reading or using in ministry.

Our former parish organist, the beloved Merrill Collins is also music composer having written a work on human rights. The name of her composition is Every Man, Woman and Child, and was performed for the June 27 world wide UN75 Virtual Conference. She happens to be in a composition competition, and if you listen and LIKE her music on the Facebook page, that's a vote in favor of two categories where she is a finalist. Listen here in the New Age category and the Hip Hop category.

The Confessions of St. Augustine – I would be remiss if I didn't offer you for your reading enjoyment, or re-reading if you've already read, the Confessions. St. Augustine's self-indiulgent Spiritual Auto-biography, which has inspired Christians who desire a deeper relationship with Christ to read and study the Confessions. This could be your next pandemic project!

Looking at monastic insights we might gain and learn from as a result of pandemic isolation:
https://churchlifejournal.nd.edu/articles/from-loneliness-to-silent-freedom/

What is Lectio Divina? - A Short video by Fr. James Martin, SJ

Praying Together, Praying Apart: At Home Prayers for Times of Healing, Illness and Death. (Liturgical Press)

A resource put together as a gift to our Church for moments of prayer toward the end of life, especially useful for us as we accompany a loved one who may be in hospice, or near death when a priest cannot come to celebrate the Anointing of the sick.

Part 1: Prayers of Comfort, Hope and Healing
Part 2: Lucernarium for Healing
Part 3: Rosary For Healing with Luke the Evangelist
Part 3: At-Home Service of Prayer when someone has Died

Morning Prayer and Evening prayer

https://giveusthisday.org/digital

Morning Prayer and Evening Prayer with the Psalms are the "hinges of the day" according to the Liturgical documents. Praying with the Psalms gives us a rhythm, and puts us in contact with some of the most salient poetic and sung scripture texts composed to help the people of Israel speak to God in prayer – there are Psalms of praise, thanksgiving, lament, fear, anger, distress, in moments of great joy and moments of great sorrow.

It may be praying with the Psalms during these days would help you through this moment of great upheaval. It is available as a download to your mobile device or computer and is also available as an app for the iPhone and Android platforms.

The Work of Your Hands: Prayers for ordinary and extraordinary moments of Grace

by Diana Macalintal

This is a great collection of inspired prayers that Diana, a good friend, wrote and I have used them to open meetings, close meetings or just begin the day.