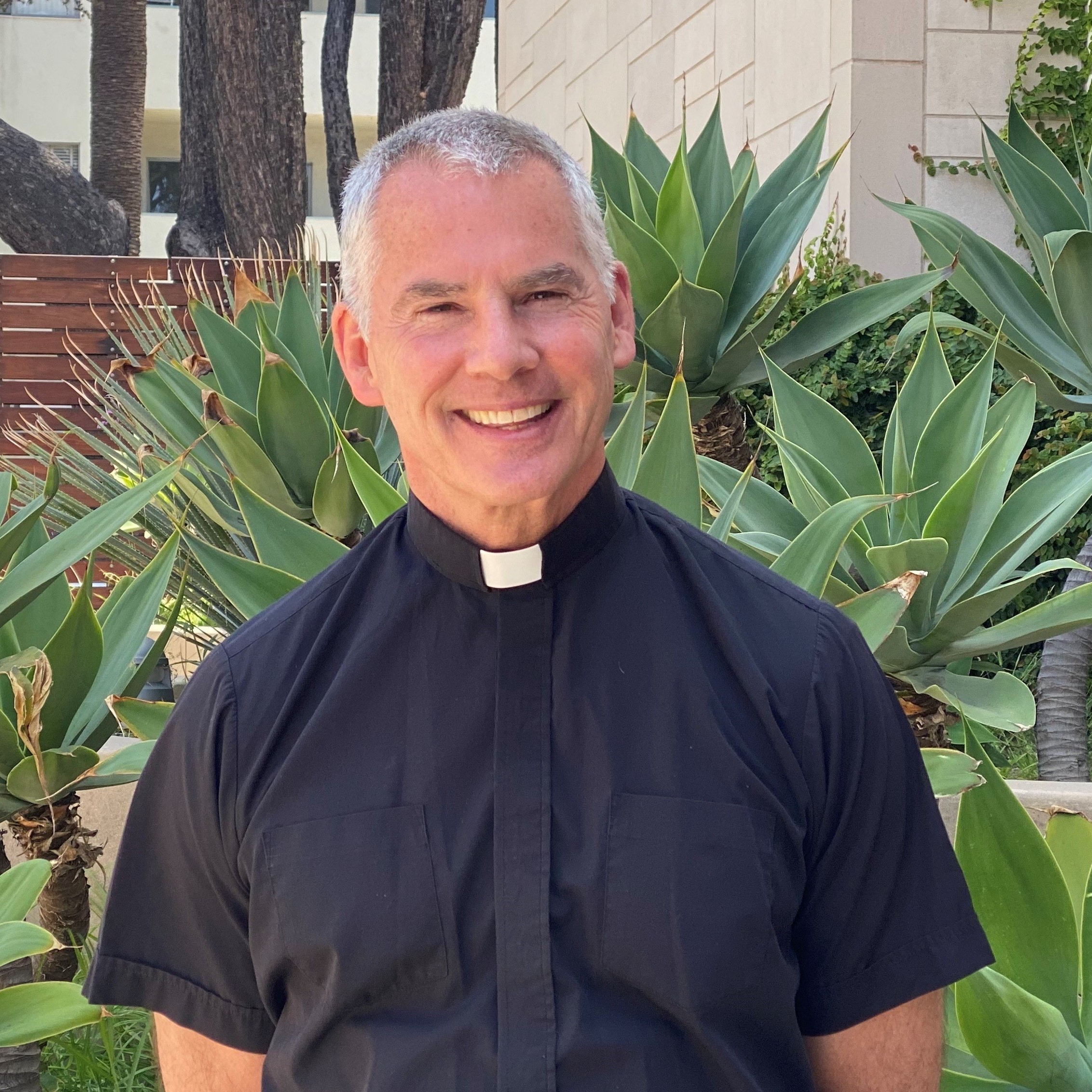 Fr. Dave Ayotte was ordained in 1992 for Los Angeles serving for 15 years in parish ministries and later as director of the Mission Office for the Archdiocese. That work involved training lay families to serve in the international missions. Following this, he served 14 years with the Jesuits teaching in universities in Rome and Nairobi, mainly in the formation of lay leaders and priests. He holds a doctorate in systematic theology (STD) focusing on the thought of Teilhard De Chardin and globalization. He holds Masters in Divinity, Applied Spiritual Theology, and Religious Studies. Both in the US and later in Africa, Fr. Dave was involved in fund raising for Church related organizations. He has served for the past 5 year as an associate pastor at parishes in Sacramento, Chatsworth and now here at St. Monica. In 2020 He oversaw FIRE, a program of 31 parish leaders experiencing the Spiritual Exercises of St. Ignatius. He currently is the Director of the St. Monica Spirituality Center.
Dian Brutocao, MTh, currently ministers as a s
piritual director for SEEL Spokane, WA. She has a thriving 39-year marriage with five adult children and four grandchildren. In her early years, Dian worked as an RN in the intensive care unit. She has served on parish council at St. Peter's Spokane, WA as well as president of such, the Catholic Foundation of Eastern WA, Vocations Admissions Advisory Board- Bishop White Seminary Spokane, WA, Grant Distribution Committee Chairwoman for the diocese of Spokane. In her later years, she returned to school at Gonzaga University and received a bachelor degree in Religious Studies followed by a Masters in Theology with an emphasis in pastoral ministry from the University of Portland. Dian became a spiritual director in 2014 and has continued directing the Spiritual Exercises in Spokane, in FIRE Holy Spirit Parish (an intensive Christian leadership formation program, 2016) and FIRE St. Monica Parish (a nine-month retreat in the Spiritual Exercises with concurrent communal discernment, 2020/21). Dian enjoys companioning others who desire a deepening relationship with God.
Jim Arena has worked as a transformation leader and executive coach for Silicon Valley companies for most of his career and knows first-hand the excitement and difficulty of change in developing new breakthrough opportunities conceived by technology companies. He typically is working with executives where change comes fast and often unpredictable. Jim is intrigued by the wisdom that develops when you work closely with others whether it leads to success or fails. Jim has personally seen those experiences turn into a desire to surrender to Christ and help others on an even more significant life-fulfilling journey. He's been trained in the Spiritual Exercises through the Center of Ignatian Spirituality in Sacramento, California in 2018. He also completed the 3 year Institute for Leadership in Ministry, a lay-leadership program, for the Catholic Diocese of San Jose. He is married to Kathy with two young adult children who teach him how to be their best dad. He loves to bicycle nearly anywhere. You might find him on a road near you.

Linda Cunha-Ricchio lives in San Jose, CA where she has served in various adult formation ministry roles for more than 20 years: Parish Director of Faith Formation, Diocesan Director of the Institute for Leadership in Ministry, Director of Advanced Lay Leader Program, Deacon Formation Board, and Council of Lay Ecclesial Ministers. Linda has served on the National Association of Lay Ministry Board, an organization providing vision, leadership, and advocacy for lay ministers. Currently, Linda leads workshops and retreats on prayer and spirituality. She is a member of Holy Spirit Parish and serves on the Pastoral Council. She is passionate about guiding others through the Spiritual Exercises of St. Ignatius of Loyola. Linda holds Bachelor's and Master's degrees from Santa Clara University. Linda also completed 32 units of core and elective coursework in the Graduate Program in Pastoral Ministries M.A. Program at Santa Clara University. She has a certificate of completion from the Institute for Leadership in Ministry (DSJ) as well as from the Pierre Favre Program, a three-year program which trains individuals to give the Spiritual Exercises of St. Ignatius. Linda participated in the Ignatian Spirituality Leadership pilot program, FIRE, at her parish in San Jose. Before her call to pastoral ministry, Linda worked both locally and abroad for an international computer company headquartered in the Bay Area.
Shari Roeseler has conducted workshops at Mercy Center Auburn focusing on spirituality and recovery. She has over 25 years of experience working in faith-based ministries including Mercy Housing CA and St. Anthony Foundation in San Francisco. Shari completed the two-year Ignatian Spiritual Directors Program at the Center for Ignatian Spirituality, Sacramento in May, 2019. She has a Masters in Theological Studies with a focus on Christian Social Ethics and Healthcare Ethics from Santa Clara University-Jesuit School of Theology. She is a volunteer coordinator on the St. Francis Parish Faith Formation Team and she is a lecturer at the University of San Francisco. Since 2012, Shari has served as the Executive Director of Society for the Blind, a Sacramento-based non-profit providing education and low vision eye healthcare for people living with low vision and blindness.